Have you ever been frustrated by your website crashing under the pressure of high traffic? Do you feel like your eCommerce store is not living up to its full potential due to sluggish load times and frequent downtime? The solution to your woes may lie in high-traffic WordPress hosting. High-traffic hosting is specifically designed to handle the heavy traffic that comes with a popular eCommerce website.
In this article, we dive into the benefits of high-traffic WordPress hosting and provide you with the tools you need to choose the best provider for your website. We'll share our top picks for the best high-traffic WordPress hosting providers and prove why Saucal should be your choice!
Let's begin.
What Are High-traffic Hosts, and Why Do You Need Them?
As one of the most popular CMS platforms in the world, WordPress powers millions of websites across the globe. Its flexibility and customization options make it a go-to choice for everything from personal blogs to large-scale eCommerce stores.
However, as your website grows and traffic increases, it becomes more demanding on your host's resources and functionality. Without the proper hosting solution in place, your website may suffer frequent crashes, slow load times, and, ultimately, a loss of revenue.
In such cases, standard hosting solutions offered by popular hosting providers like BlueHost or SiteGround may not be enough.
That's where high-traffic hosting plans come in.
High-traffic hosts are dedicated servers or VPS (virtual private servers) specifically optimized for running WordPress websites.
They come with more storage space, processing power, and RAM than shared hosting, making them ideal for large websites with lots of traffic.
But why do you need a high-traffic hosting service for your eCommerce website? Here are a few reasons:
It ensures that your website can handle the traffic that comes with a successful online store.
You don't have to worry about crashes or slow load times during peak traffic periods.
It provides added security measures to keep your website and customer data safe. This is crucial for any eCommerce website, as a breach in security can have devastating consequences for you and your customers.
Let's take Convesio, for example. They provide high-traffic hosting solutions that are specifically designed to handle the demands of large-scale WooCommerce stores. With their enterprise-level hosting and top-of-the-line security features, you can rest easy knowing that your website is in good hands.
Benefits of High-traffic Hosting
If you're running an eCommerce website, you know how important it is to have a reliable web hosting provider. Here are some of the key benefits of high-traffic hosting:
Better Performance
High-traffic hosting provides faster processing speeds and more RAM, which means your website will load faster for your visitors. This improved performance can lead to increased conversions and better user experiences. This, in turn, can ultimately lead to more sales.
More Scalability
As your website grows and your traffic increases, you'll need more resources to handle the demand. High-traffic hosting providers allow you to easily add more resources, such as storage space and bandwidth, without having to move to a new host. This means you can continue to scale your website without worrying about outgrowing your hosting provider.
Better Security
Security is crucial for any eCommerce website, and high-traffic hosting providers typically offer better security features such as SSL certificates, malware scanning, and firewalls. This extra layer of security can give you and your customers peace of mind, knowing that their sensitive information is safe and secure.
Improved SEO
Search engines like Google prefer fast-loading websites, and high-traffic hosting can help improve your website's load times, which can lead to better search engine rankings. This, in turn, can lead to increased traffic and more sales.
Better Customer Support
High-traffic hosting providers typically offer better customer support than shared hosting providers. This is important for eCommerce websites because any downtime or technical issues can have a significant impact on sales. With high-traffic hosting, you can rest assured that you'll have the support you need to quickly resolve any issues that may arise.
Increased Reliability
High-traffic hosting providers typically have better uptime guarantees than shared hosting providers. This means that your website will be available to your customers more often, which can lead to increased sales and customer satisfaction.
Given these various advantages, you might be keen to start working with a high-traffic host right away. But the question is…
How Do I Choose a High-traffic Host?
Not all hosting providers are created equal, and choosing the wrong one can lead to slow website speeds, poor user experience, and even security breaches.
When it comes to choosing the best WordPress hosting provider, here are some key criteria to keep in mind when selecting website hosting:
Uptime
A high-traffic website needs to be up and running at all times, so you should look for a hosting provider with a strong uptime guarantee. The best hosting providers will offer real-time monitoring and alerts, so you can quickly address any issues that may arise.
Bandwidth
Your website will need a lot of bandwidth to handle high levels of traffic, so you should look for a hosting package that offers flexible CPU and RAM bandwidth. This will ensure that your site can handle spikes in traffic without slowing down or crashing.
Storage Space
A high-traffic website will also require plenty of storage space for media files, databases, and other assets. Look for a hosting option that offers scalable storage solutions, ideally with the ability to scale both vertically and horizontally, to ensure that you never run out of space. We recommend choosing a provider with SSDs for fast loading times.
Security
Look for web hosting services that offer robust security measures, such as DDoS protection, spam filters, malware scanning, and daily backups. This will help ensure that your website and your customers' information are safe from harm.
CDN Network
A Content Delivery Network (CDN) can help improve website speed and user experience by storing copies of static files (like images) across multiple web servers around the world. Choose a hosting provider that offers an integrated CDN network to help speed up your website.
Support
When scaling a WordPress installation, you may run into technical issues that require assistance. Hire a hosting provider with responsive and knowledgeable support teams that are available via live chat or support tickets. They can help you resolve any issues you may encounter quickly and efficiently.
Price
Last but not least, consider your budget when choosing a high-traffic hosting provider. The best providers will offer competitive pricing with flexible plans that can grow with your website. While cost should not be the sole deciding factor, it is an important consideration, especially for beginners in eCommerce businesses.
By keeping these criteria in mind when selecting a high-traffic hosting provider, you can ensure that your website will run smoothly, load quickly, and be secure against potential threats.
Top 4 High-traffic Hosting Services for WordPress
Now that we've covered the benefits of high-traffic hosting and how to choose the right provider, it's time to dive into the top hosting companies that are specifically designed to handle high-traffic WordPress websites.
Each of these hosting providers has its unique features and benefits, along with varying price points, making them suitable for different types of businesses.
However, one hosting provider that stands out from the crowd is Saucal + Convesio, which is perfect for businesses looking to scale their eCommerce website and manage WooCommerce.
Let's take a closer look at each of these platforms to see which one is the best fit for your high-traffic WordPress website.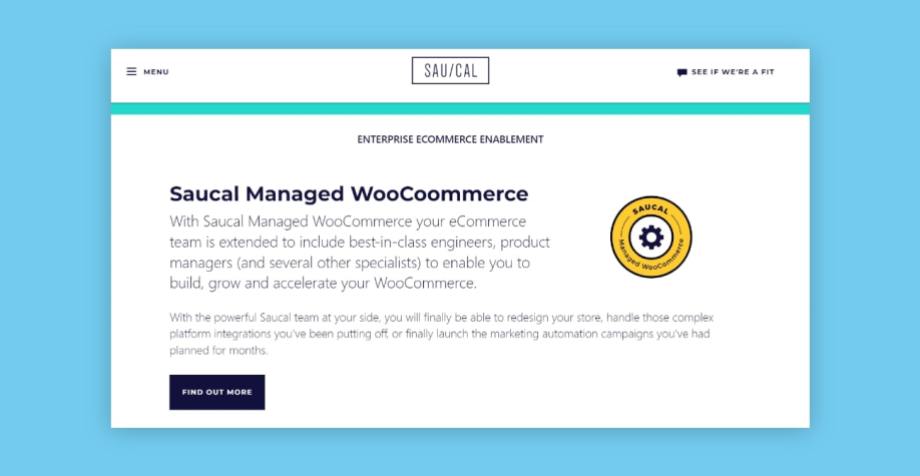 1. Saucal + Convesio
Saucal offers enterprise hosting with Convesio, the best hosting solution built specifically for WooCommerce and WordPress. Together, we make an ideal solution for high-traffic websites and especially those running on WooCommerce.
Here are some benefits of using Saucal + Convesio for managed WordPress hosting:
High-Performance: Convesio is built on enterprise-grade architecture designed to run high-volume, performance-intensive sites. It ensures that your website runs smoothly, efficiently, and quickly, even under heavy loads of traffic.
Global Infrastructure: Saucal + Convesio use a global infrastructure that leverages CDNs and data centers around the world. This means that your website's content will be delivered quickly to your visitors, regardless of where they are located.
Automatic Updates: Convesio automatically updates your WordPress core, themes, and plugins to ensure that your website is always running on the latest, most secure version.
Robust Security: Convesio offers advanced website protection from DDoS and malware attacks. With Convesio, your website is hosted in a secure environment that is actively monitored and maintained by Saucal's security experts.
Centralized Management: Convesio comes with a centralized dashboard that allows you to manage all aspects of your website, including content, security, and performance.
Focus on Speed and Performance: With features like load balancing, tiered caching, and Edge image resizing add-ons, Convesio ensures faster website loading and a better user experience for visitors.
User-friendly Interface: Convesio has an easy-to-use Dashboard which makes it convenient for even non-technical users to manage their WordPress sites.
Saucal as WooExperts and Convesio, the best enterprise hosting solution for WordPress, together create a reliable and powerful managed WordPress hosting solution that provides high performance, security, and scalability for high-traffic websites running on WordPress.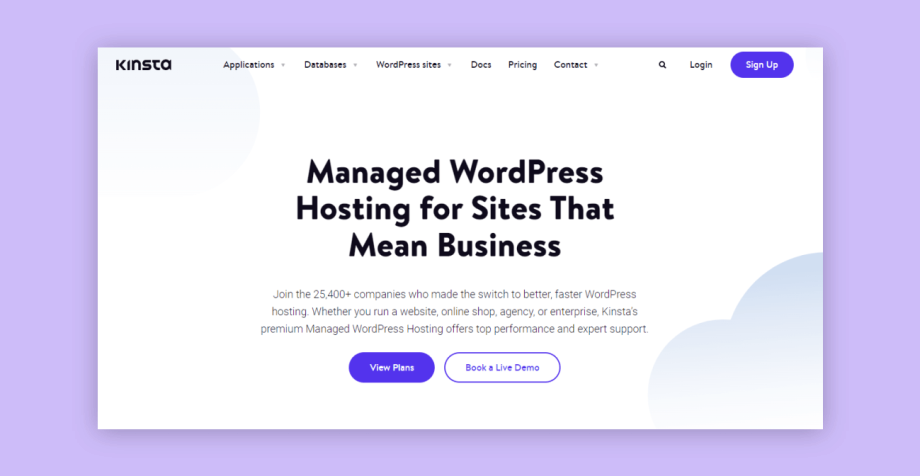 2. Kinsta
Kinsta is a popular cloud-based managed host for high-traffic WordPress sites with a reputation for delivering top-notch performance and reliability.
Here are some of the advantages and drawbacks of using Kinsta as a high-traffic hosting solutions provider:
Exceptional Performance: Kinsta's infrastructure is powered by Google Cloud Platform, which means it has access to powerful server technology and resources that can handle high-traffic websites with ease. Their servers also come with built-in caching plugins to deliver lightning-fast page load speeds for your visitors.
High Availability: Kinsta offers an uptime guarantee of 99.9%, with real-time monitoring and automatic failover to ensure your site stays online even during periods of high traffic or server issues.
Security: Kinsta takes security seriously and provides free SSL certificates and regular backups to protect your site from hacks, malware, and data loss. Additionally, they offer security features such as two-factor authentication, DDoS protection, and IP whitelisting to keep your site secure.
Scalability: Kinsta allows you to scale your resources up or down based on your site's needs, making it easy to handle traffic spikes or changes in demand. They also offer easy site cloning and staging environments for testing and development purposes.
User-friendly Interface: Kinsta's dashboard is intuitive and easy to use, making it simple for users to manage their site's performance, security, and backups.
Having said that, Kinsta's hosting plans do have some minor drawbacks, like limited storage space, which can be a drawback for high-traffic eCommerce websites that require a lot of space to store media files and other data.
Overall, Kinsta is an excellent choice for high-traffic WordPress hosting for websites that require top-notch performance and reliability.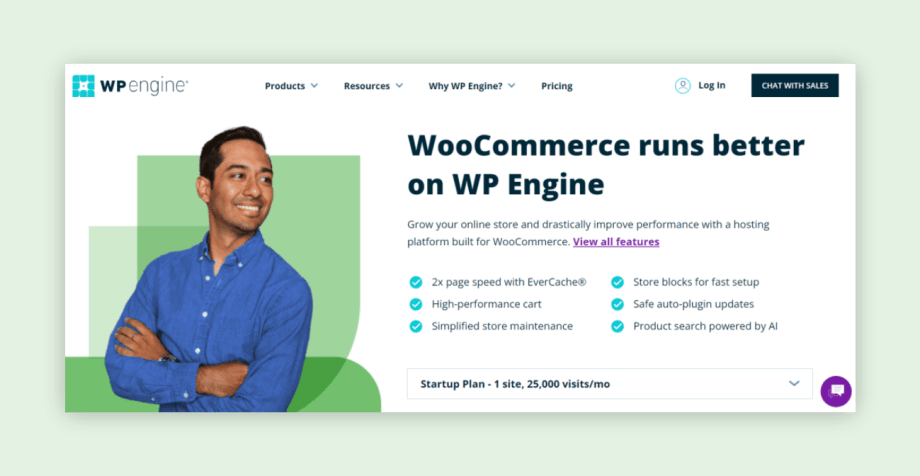 3. WP Engine
WPEngine is a popular choice for managed WordPress hosting, offering a range of features specifically tailored to WordPress sites, including server-level caching, a proprietary content delivery network, and a dedicated Page Performance tool.
With a 99.95% uptime guarantee, WPEngine is reliable and able to handle high-traffic sites with ease.
Here are some of WPEngine's best features:
Strong focus on security
Regular malware scanning
Automatic WordPress updates
Multiple firewalls in place to protect your site.
Range of developer-friendly tools, including staging sites, Git integration, and SSH access
However, WPEngine's pricing can be on the higher side compared to other managed hosting providers, which may be a drawback for smaller businesses. Additionally, the platform has strict limitations on the number of visitors and storage space for each plan, which may not be suitable for rapidly growing sites that need to scale quickly.
4. Cloudways
Cloudways is a managed cloud high-traffic WordPress hosting platform that offers high-performance servers for high-traffic WordPress sites.
Here are some of the advantages of using Cloudways:
Performance: Cloudways uses SSD-based hosting that delivers faster performance and improved website loading speeds. The HTTP/2-enabled servers further improve website speed and ensure a smooth user experience even during high-traffic periods.
Scalability: Cloudways allows you to easily scale up or down your resources as needed, ensuring that your website is always performing optimally.
Managed Security: Cloudways provides managed security features, including firewalls, regular security patches, and malware scanning, to keep your website secure and protect against potential cyber threats.
Flexibility: Cloudways allows you to choose from multiple cloud providers like AWS, Google Cloud, and DigitalOcean, giving you the flexibility to select the best option for your specific needs and budget.
However, while Cloudways provides a user-friendly dashboard, managing your server resources still requires some technical expertise. If you're not familiar with server management, you may need to hire a developer or seek technical support.
In addition, Cloudways offers 24/7 support, but the level of support is limited to server-related issues only. If you need help with WordPress-related issues, you may need to seek support elsewhere.
Comparing all these options Saucal's enterprise hosting solution, Convesio, is an excellent choice for scaling and managing high-traffic WordPress sites. Its performance and security features, including automatic updates, offloaded cron tasks, adaptive media, and protection against DDoS and malware attacks, make it a reliable option for businesses looking to grow and scale.
Scale Your WordPress Website With Saucal
Choosing a high-traffic WordPress hosting provider can significantly improve your website's performance, user experience, and scalability. By investing in reliable hosting, you can expect faster page loads, reduced loading times, and enhanced security, among other benefits.
Among the various high-traffic hosting providers we've discussed, Saucal + Convesio stands out as the best option for scaling large-scale eCommerce websites.
With its robust infrastructure and advanced security measures, Saucal has consistently handled the most performance-intensive sites with ease.
Take a look at our case studies for Lens Distortions, which saw a dramatic increase in site speed and health with Saucal's intervention and site performance optimization. In the case of Leggari.com, Saucal helped the company move to managed WordPress hosting, which had a significant impact on reducing page load times and improving conversion rates.
Saucal's expertise in WordPress website development, maintenance, and project management have made it the go-to choice for businesses looking to grow and scale their online presence.
Now, with Saucal + Convesio's enterprise-grade architecture, WooCommerce optimization, and expert support, it is the ideal high-traffic WordPress hosting solution for businesses. Especially those looking to grow their eCommerce website while maintaining its performance and scalability.
If that sounds like a sweet deal to you, discuss your hosting requirements with our team of experts today!