In today's highly competitive eCommerce landscape, selecting the right hosting environment for your WooCommerce store is crucial for success. This is applicable irrespective of whether you're just starting out with WooCommerce or considering moving your existing store to the platform.
The right hosting plan and server configuration can significantly impact your store's overall performance, security, and user experience, ultimately affecting customer retention and your bottom line.
According to an Unbounce report, a mere 1-second delay in page load time can lead to a 7% reduction in conversions, while 53% of mobile users abandon a site if it takes longer than 3 seconds to load.
Even Google considers site speed as a ranking factor for SEO, making it even more critical for online stores to optimize their hosting environment.
Suboptimal hosting can result in slow-loading pages, frequent downtime, and security vulnerabilities, all of which can negatively impact your store's reputation and drive potential customers away.
Given these dire repercussions, let's explore the crucial WooCommerce hosting requirements that every WooStore owner needs to know, along with some expert tips for selecting the right hosting provider and plan, as well as optimizing and managing your store for maximum performance.
Let's begin!
Minimum requirements for WooCommerce and WordPress
Before you take your first step into setting up a WooCommerce store on a WordPress site, it is critical to be cognizant of the minimum server requirements that are essential for running your store smoothly.
An important point to note is that these requirements may evolve as both WooCommerce and WordPress continue to develop. Therefore, it's always a good practice to refer to the official WooCommerce documentation for the most current information.
Here's a rundown of the core server requirements you need to meet:
Minimum PHP version
PHP is a scripting language that powers WordPress and WooCommerce. Ensuring that your server supports the latest versions of PHP is vital, as it improves performance and security.
Currently, the minimum PHP version recommended for WooCommerce is PHP 7.4 or newer.
However, as the PHP language continues to advance, newer versions may become the standard. Always opt for a hosting environment that allows you to easily upgrade PHP versions.
Minimum MySQL version
MySQL is the database management system that stores all your WooCommerce site's data, including products, orders, and customer information.
To ensure your database runs efficiently and securely, it's crucial that your server supports the minimum required version. WooCommerce recommends MySQL 5.6 or newer. Similar to PHP, newer versions of MySQL will likely emerge, so ensure that your hosting environment supports easy upgrades.
WordPress memory limit
One of the essential settings to pay attention to is the WordPress memory limit. This setting determines how much memory can be allocated to processes running on your WordPress site.
A higher memory limit means your site can handle more data and execute scripts more efficiently, which is particularly important for a WooCommerce store with potentially thousands of products. WooCommerce recommends setting the WordPress memory limit to 256 MB or higher.
Other server requirements
In addition to the core requirements mentioned above, there are other important server configurations to consider:
HTTPS support: To safeguard your customers' data, make sure your server supports HTTPS, indicating that an SSL certificate is used. This not only secures data transfer but also instills trust among your customers.
Post and upload size limits: These settings control the maximum size for uploaded files and POST data. They are particularly important if you are dealing with large product images or files.
Meeting the minimum server requirements is the foundation of building a WooCommerce store that is secure, fast, and reliable. These settings play a critical role in how your store performs under load and how securely data is handled.
By ensuring your hosting environment complies with these requirements, you are setting the stage for a WooCommerce store that is geared for success.

Choosing the best hosting type and plan for your store
When selecting a hosting type and plan for your WooCommerce store, it's essential to consider the various options available and weigh their pros and cons.
Different hosting types cater to diverse business needs, and the best choice for your store depends on your specific requirements.
Here's an overview of the primary hosting types for WooCommerce stores.
Dedicated hosting
Dedicated hosting can be likened to owning a private island. It involves renting an entire physical server that is solely dedicated to your website. With no resource sharing, this hosting type is ideal for websites with high traffic volumes or resource-intensive applications.
| | |
| --- | --- |
| Pros | Cons |
| Performance: Being the sole occupant, you can leverage the full bandwidth, memory, and processing power of the server, ensuring high performance. | Cost: The exclusivity comes with a high price tag, making it prohibitive for small businesses or new ventures. |
| Security and customization: You have the autonomy to implement stringent security measures and customize server settings to your preference. | Management: Server management demands a high level of technical expertise, and you may need to hire a system administrator for maintenance. |
| Exclusive IP address: With a dedicated IP, you are safeguarded from the actions of others, which is beneficial for your website's reputation and SEO. | |
Shared hosting
Shared hosting is akin to co-living in a large dormitory. Your website shares server space and resources with several other websites. It's a cost-effective solution for small websites or personal blogs with low to moderate traffic.
| | |
| --- | --- |
| Pros | Cons |
| Cost-effective: The expenses of the server are split among multiple users, making it an affordable entry point. | Restricted performance: Sharing resources can lead to performance bottlenecks, particularly if a co-tenant site experiences a traffic surge. |
| Simplified management: Shared hosting plans often include cPanel or other management tools, easing the administrative burden for non-technical users. | Limited customization: The ability to tweak server settings is typically limited, as it can affect other websites sharing the server. |
Virtual Private Server (VPS) hosting
VPS hosting is comparable to living in a gated community, where you share the premises with others but have your private space and allocated resources. It's a virtualized environment where a single physical server is partitioned into multiple virtual servers.
| | |
| --- | --- |
| Pros | Cons |
| Dedicated resources: Though sharing a physical server, your virtual server has allocated resources, ensuring better performance compared to shared hosting. | Cost: VPS hosting is more expensive than shared hosting, but usually more affordable than dedicated hosting. |
| Scalability: You can easily scale resources as your website grows. | Technical knowledge required: Root access requires a certain level of expertise to manage and secure the server efficiently. |
| Root access: You have the autonomy to install software and make configuration changes. | |
Managed WordPress hosting
Managed WordPress hosting is tailored for WordPress sites, providing a concierge service where technical aspects like updates, backups, and security are managed by the hosting provider. Think of a luxury condo with concierge services – that's managed hosting in the digital world.
| | |
| --- | --- |
| Pros | Cons |
| Optimized performance: Servers are optimized specifically for WordPress, ensuring fast loading times and smooth performance. | Cost: The specialized services come at a premium compared to shared hosting. |
| Managed services: Automated backups, updates, and security streamline the management of your site. | Less control: Managed WordPress hosting usually doesn't provide server root access, limiting certain customizations. |
| Expert support: Access to WordPress experts for support and advice. | |
TL;DR? Here's a comparative table for a quick glance:
| | | | | | | |
| --- | --- | --- | --- | --- | --- | --- |
| Hosting Type | Performance | Security | Customization | Cost | Scalability | Technical knowledge required |
| Dedicated hosting | Excellent | High | High | High | Medium | High |
| Shared hosting | Basic | Medium | Low | Low | Low | Low |
| VPS hosting | Good | Good | Medium | Medium | Good | Medium |
| Managed WordPress hosting | Excellent | High | Medium-Low | Medium-High | Good | Low |
Each hosting type has its pros and cons, but managed WordPress hosting is often the best choice for WooCommerce stores due to its optimized performance, security, and WordPress-specific features.
Expert tips for selecting the right hosting provider and plan
Choosing a hosting provider is a critical decision that can significantly impact your WooCommerce store's performance and user experience. It's essential to take a meticulous approach to evaluating different hosting providers and plans.
Pro tip: Ensure that the hosting provider meets the minimum server requirements for WooCommerce and WordPress, such as PHP and MySQL versions. However, remember that these requirements are the bare minimum, and it's advisable to opt for a provider that exceeds them. For instance, instead of just meeting the minimum memory limit of 256MB, a higher memory limit would be ideal for optimal performance.
Here are more expert tips to help guide your selection process:
Server performance and reliability
Check the hosting provider's server performance in terms of uptime and speed. A reliable host should offer at least 99.9% uptime. For an eCommerce store, it's crucial to have a fast and accessible site at all times, as downtime can lead to loss of sales and customer trust.
Scalability
Your business is not static, and your hosting plan shouldn't be either. Opt for a hosting provider that offers scalability to accommodate your WordPress store's growth and increased traffic. This is especially important for eCommerce stores, which may experience seasonal traffic spikes.
WooCommerce-specific hosting plans and features
Some hosting providers offer plans that are specifically optimized for WooCommerce. These plans often include features like caching and staging environments, which are incredibly beneficial for an eCommerce store. Caching enhances your site's speed, while a staging environment allows you to test changes before going live.
Security features
Security is paramount for an eCommerce store as it deals with sensitive customer data. Ensure the hosting provider offers robust security features such as SSL certificates, regular backups, and protection against DDoS attacks.
Customer support and technical assistance
Customer support is an often overlooked but essential aspect. Choose a hosting provider that offers excellent customer support, preferably 24/7. Technical assistance should be readily available, especially if you lack technical expertise.
Pricing and value for money
While pricing is an important consideration, it's crucial to strike a balance between cost and value. Sometimes, a cheaper plan may lack essential features, while a slightly more expensive one could offer significant value in terms of performance and support.
Reviews and testimonials
Lastly, look for reviews and testimonials from other customers, especially those with WooCommerce stores. Customer feedback can offer invaluable insights into a hosting provider's reliability, performance, and customer service.
Focus on performance, security, scalability, and support to select a hosting provider that not only meets but exceeds your store's requirements, ensuring an optimal environment for growth and success.

How Saucal connects you with your ideal hosting provider
Your online store is more than just a platform; it's the face of your brand, and its performance is synonymous with your business' success.
This is where Saucal steps in to empower your WooCommerce journey. Saucal is not just another service provider; it's a collective of certified WooExperts dedicated to transforming the way you experience WooCommerce.
When you collaborate with Saucal, we don't just offer services; we form a partnership with your business. We stand by you as trusted partners, dedicated to optimizing every facet of your online store, ensuring that it's not only robust but also efficient.
Here's what we bring to the table:
Expert WooCommerce development
Saucal excels in building world-class WooCommerce stores that are optimized for performance and user experience. Whether you're starting from scratch or looking to solve complex performance and UX issues, Saucal's team ensures your store is built on a foundation of excellence.
Custom extensions and features
No two businesses are the same, and Saucal understands this. We enhance your WooCommerce store with custom extensions and features, ensuring that your store is uniquely positioned to serve your customers and stands out in the crowded eCommerce space.
Seamless store migration
If you're looking to transition to WooCommerce from another platform, Saucal makes this process seamless. We handle store migrations with surgical precision, ensuring minimal downtime, so that your business continues to thrive during the transition.
Scalable eCommerce solutions
As your business grows, your store needs to scale effortlessly. Saucal has an exemplary track record of supporting businesses through their growth, ensuring your store is well-equipped to handle increasing traffic and sales.
For example, we helped Phlearn scale from scratch to over 10,000 subscribers in just three months!
Managed upkeep and support
WooCommerce stores require regular maintenance for smooth operations. Saucal's managed upkeep and support services ensure that your store never faces a hiccup. With ongoing technical assistance and a dedicated team of WooExperts at your disposal, your store operations are uninterrupted and always in peak form.
In addition, working with certified WooExperts is paramount for WooCommerce store development and maintenance. As certified experts, Saucal's team possesses an in-depth understanding of WooCommerce, ensuring that your store is built and maintained to the highest standards.
Saucal is more than a service provider; it's the partner that stands by your side, ensuring that your WooCommerce store is the epitome of excellence and efficiency.
Through expert development, custom features, seamless migration, scalable solutions, and managed support, Saucal takes your eCommerce experience to the next level.
Saucal's managed hosting plans
To ensure that your store not only thrives but also scales seamlessly, we have meticulously crafted three managed WooCommerce hosting plans: Starter, Launch, and Growth.
The Starter plan
The Starter Plan is tailored for businesses that are embarking on their WooCommerce journey. While this plan does not include hosting, Saucal goes the extra mile by recommending three top-tier hosts that are known for their excellence in the WooCommerce ecosystem: WordPress VIP, Kinsta, WP Engine, and Altis DXP.
But Saucal's support doesn't end at mere recommendations. Our experts at Saucal actively assist you in evaluating and selecting the hosting provider that best aligns with your business goals and technical requirements. Moreover, Saucal's team ensures a smooth migration process to the host of your choice, safeguarding your data and minimizing downtime.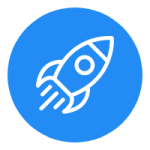 The Launch plan
For businesses that have established their footing and are set to take the eCommerce world by storm, Saucal offers the Launch Plan. This plan is not just a step up; it's a leap toward scalability and performance. The Launch Plan includes hosting with Convesio, an innovative hosting provider renowned for high performance and reliability.
Convesio is designed from the ground up to provide high availability and auto-scaling, making it an exceptional choice for WooCommerce stores. With the Launch Plan, you not only get expert WooCommerce support from Saucal but also experience the cutting-edge hosting environment that Convesio provides.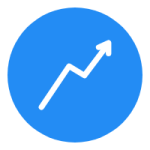 The Growth plan
For businesses that are in an advanced stage, where scalability and features are critical, Saucal offers the Growth Plan. This plan includes hosting with Convesio, just like the Launch Plan. However, the Growth Plan is an augmented version that's designed to handle the challenges of a rapidly expanding business. It's built to ensure that as your business grows, every aspect of your WooCommerce store scales effortlessly.
Let's take a more in-depth look at some of the hosts we partner with and the ones we recommend.
Convesio: The host Saucal partners with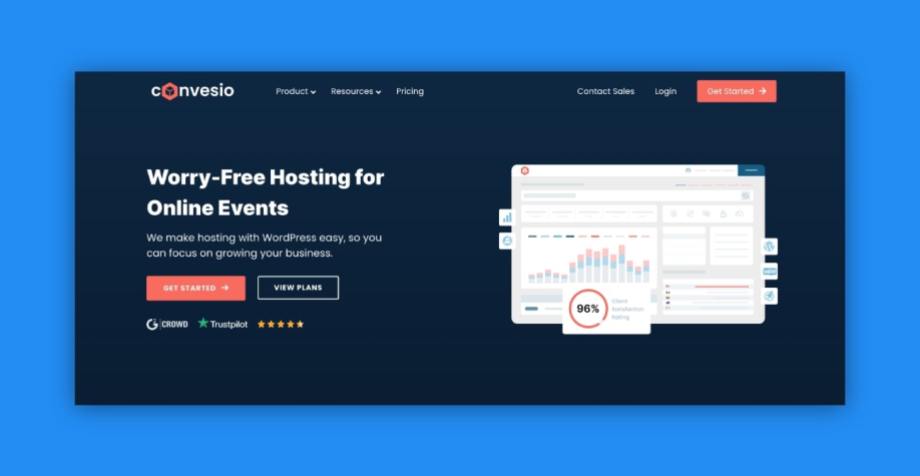 Saucal is proud to partner with Convesio, a hosting platform that is nothing short of revolutionary in the WordPress and WooCommerce space. Convesio is a reliable and high-performance hosting provider that specializes in WordPress and WooCommerce solutions.
Trusted by some of the best-known WordPress and WooCommerce plugins, Convesio has built a strong reputation for its cutting-edge technology and commitment to customer success.
Here are some of its best features:
One of the key advantages of Convesio is its impressive performance, offering triple-digit percentage boosts for load times. This means that your WooCommerce store will load faster, providing a better user experience for your customers and potentially improving your search engine rankings.
Convesio features auto-scaling capabilities, which ensures that your store can meet the demands of high traffic. This is particularly important for eCommerce businesses during peak periods, such as sales events or product launches, when traffic can spike dramatically.
Another noteworthy feature of Convesio is its self-healing technology. If your site goes offline for any reason, Convesio can instantly redeploy it, minimizing downtime and ensuring a seamless experience for your customers.
Convesio offers 1-minute monitoring times, which means that any potential issues are detected and resolved quickly. This proactive approach to site management helps maintain your store's performance and stability.
Most importantly, Convesio provides 24/7 expert support with under-5-minute response times, ensuring that you always have access to knowledgeable assistance when you need it.
With Saucal+Convesio as your hosting partner, you can focus on growing your WooCommerce store while enjoying the peace of mind that comes from working with a reliable and high-performance hosting provider.
Other hosts we recommend
In addition to Convesio, Saucal also recommends the following hosting providers for their exceptional performance and features tailored for WooCommerce stores:
WordPress VIP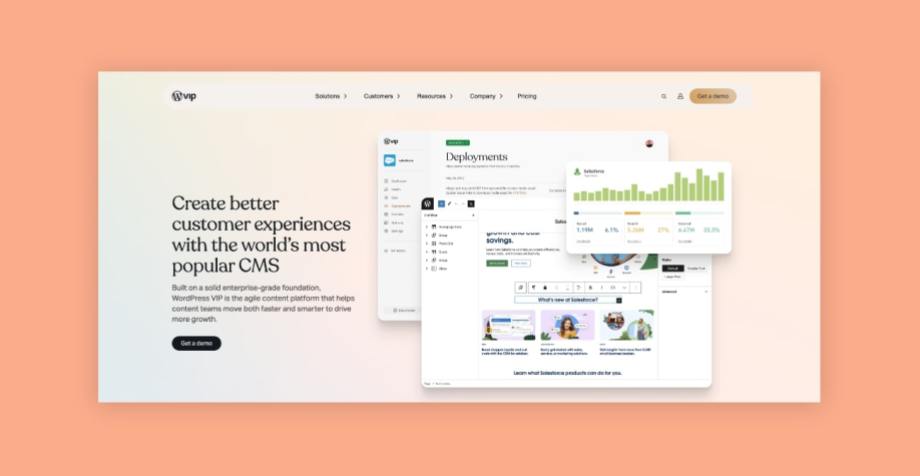 WordPress VIP is a top-tier service tailored for high-traffic WordPress websites and enterprise-level businesses. Built by Automattic, the same team behind WordPress.com and WooCommerce, WordPress VIP guarantees exceptional performance, security, and scalability. Its plans include a totally managed infrastructure, hourly backups, DDoS protection, security and vulnerability patches, automated code scanning, multisite availability, and more.
This managed hosting solution is a worthy consideration for businesses seeking the best WordPress experience for their high-demand websites.
Kinsta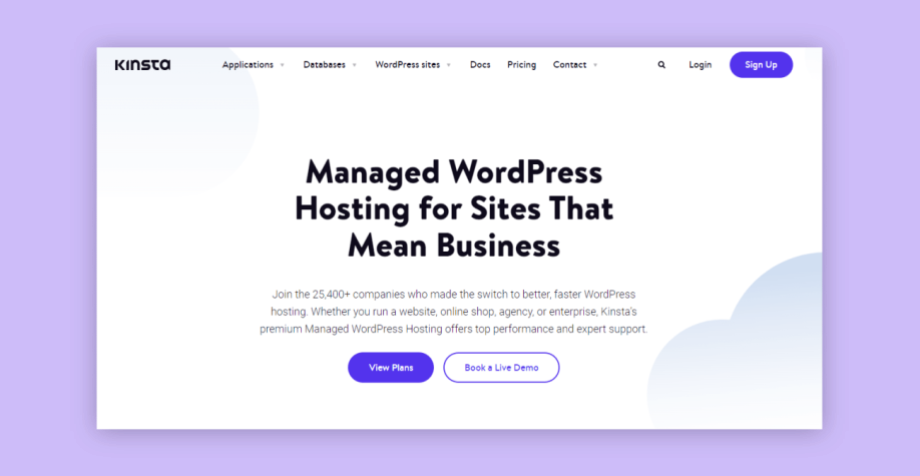 Kinsta is a premium managed WordPress hosting provider that offers lightning-fast performance and top-notch security. Powered by the Google Cloud Platform, Kinsta provides a scalable infrastructure that can handle the demands of growing WooCommerce stores.
With features like automatic daily backups, free SSL certificates, and a custom-built caching system, Kinsta ensures your store remains fast, secure, and reliable. Additionally, Kinsta's expert support team is available 24/7 to help you with any issues that may arise.
WP Engine
WP Engine is a leading managed WordPress hosting provider that specializes in delivering high-performance, secure, and scalable hosting solutions. With a dedicated WooCommerce hosting plan, WP Engine offers features such as automated backups, SSL certificates, and a global content delivery network (CDN) to improve your store's performance.
WP Engine's hosting environment is optimized for WooCommerce, ensuring that your store runs smoothly and efficiently. Furthermore, their award-winning support team is available 24/7 to assist you with any questions or concerns.
Altis DXP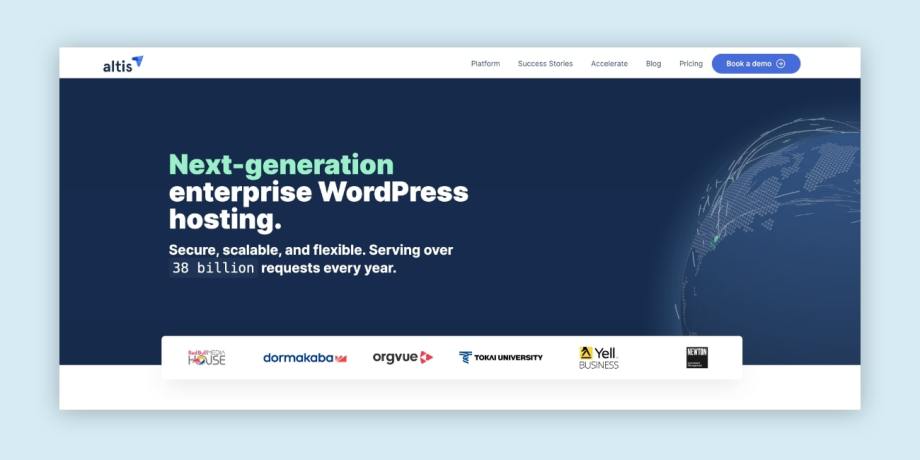 Altis DXP is a powerful hosting platform designed specifically for WordPress and WooCommerce sites. By providing a fully managed hosting environment, Altis ensures your store is always up-to-date, secure, and optimized for performance.
Their hosting plans include features like automatic scaling, daily backups, and SSL certificates, which are essential for a successful WooCommerce store. Altis also offers a suite of developer tools and a dedicated support team to help you troubleshoot and resolve any issues that may arise.
Get started with Saucal to create your optimized WooCommerce store today
The vitality of selecting the right hosting environment cannot be understated – it's the bedrock upon which your store's performance, security, and user experience are built. Meeting the necessary requirements is not merely a checkbox but a commitment to excellence.
Adhering to best practices is not optional; it's quintessential to realize the full potential of your eCommerce venture.
In this landscape, working with Saucal transcends the traditional client-service provider paradigm.
Saucal becomes your ally, your expert guide through the multifaceted world of WooCommerce. With a team of certified WooExperts, Saucal is equipped to bring to life world-class stores that not only attract but also captivate your audience.
From expert development to custom features, from seamless migration to scalable solutions, and from dedicated support to managed hosting plans, Saucal is the holistic partner your WooCommerce store deserves.
Imagine an online store that's blazing fast, impregnable, and delivers a shopping experience that keeps customers coming back for more. That's not a distant dream; it's a reality that's within your grasp.

Your vision, coupled with Saucal's proficiency, is the synergy that will redefine your eCommerce success.

Start your journey with Saucal!