Scalable hosting is a must-have for any business looking to grow or has already experienced rapid expansion. It allows your website or online store to handle increasing amounts of traffic and data without crashing or slowing down, ensuring your business can continue to thrive and reach new heights.
For WordPress users, scalable hosting is especially important as it can manage the complexity of handling large amounts of traffic and data automatically, freeing up your time and resources to focus on your business instead of fixing downtime.
But with so many hosting companies out there, how do you choose the right one for your WordPress website or WooCommerce store? In this article, we'll go over the basics of scalable hosting and how it applies to WordPress, as well as provide a list of the top WordPress hosting companies to consider. By the end of this article, you'll have a clear understanding of what to look for in a scalable hosting solution and which companies are best equipped to provide it.
WordPress for Large and Enterprise Websites
If you already have a high-traffic website built with WordPress, you may have experienced some difficulty with scaling in the past. While WordPress is a powerful and capable platform, it requires proper scaling to handle large amounts of traffic and data effectively.
One of the key advantages of using WordPress is its unbeatable content management capabilities. With a simple and seamless interface for editors, it's easy to manage and update your website's content without any technical expertise. Plus, WordPress is committed to accessibility, focusing on making its admin and bundled themes Web Content Accessibility Guidelines (WCAG) 2.0 AA compliant where possible.
WordPress-powered websites can serve hundreds of thousands of visitors and logged-in users at the same time. However, ensuring that your website is adequately scaled is crucial to take full advantage of these capabilities. There are a variety of performance-enhancing measures, including caching plugins, that can help your website run smoothly and efficiently. Still, it's essential to choose the right ones and use them correctly to achieve the desired results.
Ensure that your site is properly scaled to take full advantage of WordPress's capabilities with the right setup and the support of the large WordPress open-source community.
How much traffic can WordPress handle?
There are no hard and fast limits to the amount of traffic that WordPress can handle. However, choosing the right WordPress host and implementing regular on-site performance optimizations is essential. Some, for instance, will take hundreds of thousands of monthly visits.
To deliver a seamless user experience, your website's front-end and back-end must be lightning-fast regardless of the number of users. If you're experiencing high traffic not supported by your current hosting solution, consider upgrading. An excellent hosting solution can be made more accessible by having a development team skilled in scaling websites and configuring WordPress hosts.
The best WordPress hosts are those that can ensure that your high-traffic WordPress website can scale effectively by expanding and decreasing capacity according to need. So let's take a closer look at scalable WordPress hosting.
What is Scalable WordPress Hosting?
When it comes to scalable WordPress hosting, the main goal is to provide a hosting solution that can grow with your website. This means automatically increasing resources as demand grows without sacrificing security and performance. Several approaches to scalable hosting include cloud auto-scaling, horizontal scaling, and scaled-up security. Let's take a closer look at each of these in turn.
Cloud auto-scaling
Cloud auto-scaling is the process of automatically increasing or decreasing the computational resources delivered to a cloud workload based on need. This means that when configured and managed correctly, your website will get precisely the cloud computational resources required (and no more or less) at any given time. The advantage of this approach is that you pay only for the server resources you need when you need them.
Horizontal scaling
Horizontal scaling, also known as scaling out, refers to adding additional nodes or machines to your infrastructure to cope with new demands. If you are hosting an application on a server and find that it no longer has the capacity or capabilities to handle traffic, adding a server may be your solution. The advantages of horizontal scaling are that it is simple to implement and costs less. It offers flexible, scalable tools, and it has limitless scaling with the unlimited addition of server instances. Upgrading a horizontally scaled database is also easy — just add a node to the server.
Scaled-up security
Finally, as your website grows, it's important to focus on scaled-up security to protect against potential risks. This includes ensuring the secure transmission of payment information and any user data that could be vulnerable to intruders, as well as inspecting your website for vulnerabilities that may appear as you scale. By focusing on these areas, you can ensure that your website remains secure as it grows and attracts more traffic.
The 6 Best Scalable WordPress Hosting Companies
Taking all these factors into account, we've compiled a list of the six best scalable WordPress hosting companies to help you make an informed decision. These companies offer top-notch hosting solutions that can grow with your website, providing the resources and support you need as your business expands.
In the following section, we'll take a closer look at each of these companies and what they offer.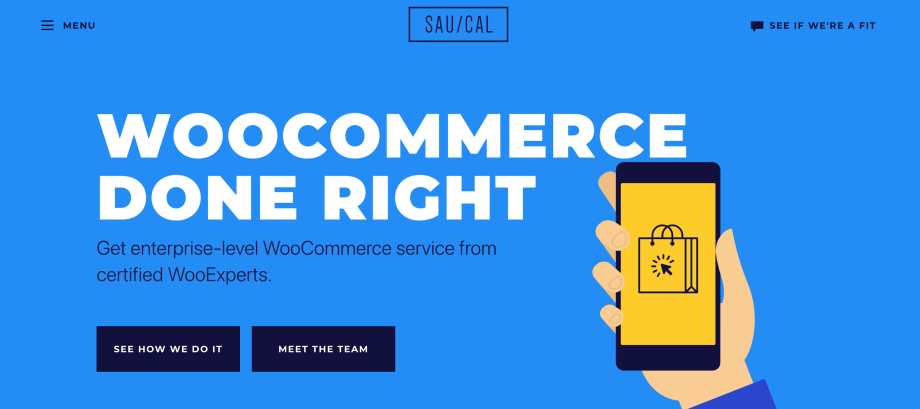 1. Saucal
As a provider of enterprise-level hosting and managed Woocommerce, Saucal is one of the best scalable WordPress hosting companies out there. We partner with WordPress VIP (WPVIP) to offer an unbeatable combination of our skills and premier hosting from the team behind WordPress and WooCommerce.
One of the standout features of our hosting solution is the use of WPVIP's container-based stack, which offers better performance, site speed, and fast page-load times. This stack uses the latest version of PHP, Nginx as its server software, and MySQL for improved performance. Plus, with 24/7 monitoring to prevent malware and automatic updates, you can trust that your website is in good hands.
In addition to the features offered by WPVIP, Saucal also includes an SSL certificate, monthly plugin, theme, and core automatic updates, automated uptime and downtime monitoring, caching and caching configuration, prompt security patches, malware protection, and firewalls. We also offer a load balancer, daily backups, and the choice of a cloud or dedicated server. With unlimited bandwidth, storage, CDN, cloning, and the option for Redis (a fast in-memory data structure store used as a database, cache, and message broker), our hosting solution has everything you need to ensure that your website can grow and thrive.
As an agency and technology provider, Saucal is uniquely positioned as a top choice for scalable WordPress hosting because we offer a unique combination of agency expertise and hosting technology. You can just take our hosting, but if you need top-tier (WordPress VIP Agency Partner and certified WooExperts) agency support, we've got you covered.
Right from the beginning, working with Saucal was a great experience. It was like having an outsourced CTO. They managed our additional contractors. They led thorough, weekly development meetings to show us their progress. They held our hands when we needed it. They wanted to get it right the first time. That they wanted to build code that delivered speed, scalability, and performance. tested well, and scales well.

SETH KRAVITZ, CEO, PHLEARN
While we may be biased, we truly believe that Saucal is one of the best scalable WordPress hosting companies out there. With our partnership with WPVIP and the wide range of features and support we offer, we are confident that we can provide the hosting solution your business needs to succeed.
2. Convesio
Convesio is a hosting provider that offers scalable WordPress hosting solutions, particularly for businesses with high-traffic websites. They address shared and VPS hosting limitations by providing a multi-tenant, redundant environment powered by docker containers, which allows for automatic horizontal scaling based on a WordPress site's needs. This is particularly useful for high-traffic periods, ensuring that your website can handle increased traffic without sacrificing performance or security.
In addition to horizontal scaling, Convesio also uses edge caching on Cloudflare's global network to deliver fast page load times. Other features of Convesio's hosting service include staging sites, site clones, automatic daily backups, and an optimized caching system. These features, combined with Convesio's scalable and redundant hosting environment, make it a reliable and efficient choice for businesses with high-traffic websites.
Convesio recommends a list of the best WordPress development partners, and Saucal is obviously on the list. We, as you know, also offer our own scalable WordPress hosting services.

3. Kinsta
Kinsta is another great choice for scalable WordPress hosting, with fully-managed hosting options for business and enterprise customers. Their hosting service is built on the Linux Containers project. It operates on Google Cloud, providing isolated containers for each WordPress site with all the server resources and functionality needed for scaling. This includes Nginx, PHP, MySQL, and a range of add-ons such as Redis, load balancing, and additional backups.
To ensure scalability for traffic spikes, Kinsta offers ten hosting plans, from Starter to Enterprise 4. These plans are designed to accommodate a wide range of website traffic levels with varying amounts of disk space, CPU usage, and memory. All levels include a free SSL certificate and CDN, and additional resources can be added as needed to support high traffic. Users have, however, complained about their PHP worker limit, which is why moving to Convesio could be good for higher-traffic sites.
Kinsta's plans offer a set level of website visits per month – for example, 100,000 visitors per month – and overage fees apply if you go above these. Kinsta has agency partners if you need extra support, and Saucal is pleased to be one of them.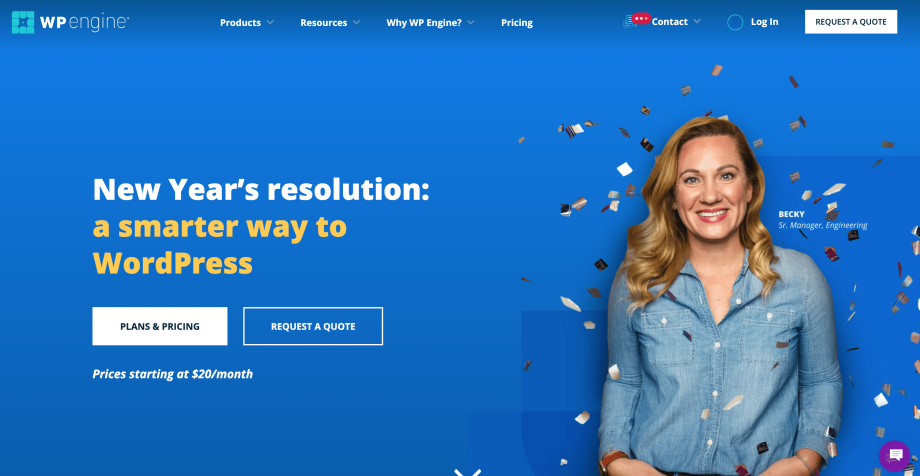 4. WP Engine
WP Engine is another common choice for scalable WordPress hosting, with a range of hosting plans that use Google Cloud Platform and AWS to deliver elastic load balancing. This ensures that your website can handle traffic spikes and scale as needed to meet the demands of your business.
Like Saucal and Kinsta, WP Engine offers a range of features and benefits that make it a great choice for scalable WordPress hosting. These include 24/7 support from a team of WordPress experts, automatic daily and on-demand backups, and advanced security measures to protect against threats such as malware and DDoS attacks.
One difference between WP Engine and other hosting companies is the allowance for server bandwidth. WP Engine offers a 50 GB allowance for server bandwidth, while Kinsta does not have a server bandwidth limit (although it does have an acceptable use policy).
WP Engine is a reliable and scalable hosting solution for businesses of all sizes. Its range of hosting plans, top-notch features, and support makes it a great choice for scalable WordPress hosting. They offer a list of agency partners if you need more hands-on support, and Saucal are proud to be a partner (if you're noticing a trend: we're extremely good at high-performance WordPress, and our hosting plans are the epitome of this).
Pricing wise, they're not super straightforward unlike the top options on this list.
5. Cloudways
Cloudways is a top choice for scalable WordPress hosting, particularly for businesses with high-traffic websites. As a cloud hosting provider, Cloudways offers high-performing solutions for WordPress, Magento, Joomla, and other PHP-based applications.
With Cloudways, you have the flexibility to choose the managed environment and functionality that best meets the needs of your high-traffic website. This includes the option to select from a range of servers, including Amazon AWS, Linode, Vultr, Google Cloud Platform, and Digital Ocean (as of 2022, Cloudways is part of Digital Ocean).
One of the standout features of Cloudways is its one-click installation and ability to choose the location of your data center. This makes it easy to get your website up and running quickly and customize your hosting environment to meet your specific needs. This is aimed at new website projects and more entry-level websites.
Another advantage of Cloudways is its modular approach, which allows you to pay only for what you use. This means that there is no limit to the number of sites you can host on the server you're paying for, making it a scalable solution for high-traffic WordPress websites. This, of course, means no limit on cost. So, If you exceed your bandwidth, you'll pay according to the service:
For Amazon and Google servers, bandwidth billing on demand.
For Vultr, additional bandwidth is charged at $0.02 to $0.05 per GB
For DigitalOcean, charges are $0.02 per GB for additional bandwidth usage.

6. SiteGround
SiteGround is a general hosting provider that offers managed WordPress hosting through both shared hosting and cloud hosting solutions. It's incredibly cheap to start and that's why it attracts a lot of people to start their new site.
Google's Cloud Platform powers their cloud hosting option, and their servers are configured to work with both Apache and Nginx. SiteGround offers three WordPress plans, with the higher-level tiers including features such as staging sites, site cloning, automatic daily backups, and an optimized caching system.
SiteGround is considered a beginner-focused hosting provider, and you see this in its technology stack. Their plans come with limits on CPU seconds, memory, and inode usage. The number of resources you have access to depends on which plan you choose, which may impact the scalability of your website.
Additionally, SiteGround uses Google Cloud N2 (balanced) servers, which are slower than the C2 (compute-optimized) servers used by other scalable WordPress hosts such as Kinsta (note, Saucal's hosting runs on WPVIP, which doesn't use Google Cloud – it uses the same dedicated WordPress enterprise infrastructure that powers WordPress.com).
The downside to SiteGround is that it doesn't scale as well as any other option on this list. So, once you've grown your site a bit, you'll be ready to move to a better option like Kinsta or Convesio.
Scale your high-performing WordPress site with Saucal Hosting
As a provider of scalable WordPress hosting, we understand the importance of having a hosting solution that can grow with your business. Scalable hosting is essential for businesses with high-traffic websites, particularly for eCommerce sites built on WooCommerce. Scalable hosting allows your website to handle increased traffic without sacrificing performance or security.
When choosing a scalable hosting provider, it's important to consider the specific vulnerabilities and needs of your website, as well as the features and benefits offered by each provider. We believe that our hosting service is a great choice for businesses looking to scale their high-performing WooCommerce sites.
Our hosting service is designed to scale your WordPress website seamlessly and efficiently. If you're looking to scale your high-traffic WordPress or WooCommerce site, consider switching to Saucal. Our comprehensive and scalable hosting solution will ensure that your website can handle increased traffic and continue to grow and thrive as your business grows.