Are you contemplating a switch from Magento to WooCommerce? You're not alone. Many businesses are making the leap, enticed by WooCommerce's user-friendly interface, cost-effectiveness, and high level of customization. However, the migration process can seem intimidating – a complex task filled with potential pitfalls and technical challenges.
Not to worry, though!
We've designed this comprehensive guide to demystify the process, providing you with a clear, step-by-step roadmap for a successful migration. From understanding the nuances of both platforms to choosing the right migration approach and managing your new WooCommerce site effectively, we've got you covered.
Let's embark on this journey together, ensuring a smooth and secure transition for your eCommerce business with expert insights and practical tips to help you navigate the migration process with ease and confidence.
Why migrate from Magento to WooCommerce?
Magento (now Adobe Commerce) and WooCommerce stand as two of the most popular eCommerce platforms available today. Both provide store owners with the freedom to work with developers and customize their platforms according to their unique business needs.
Magento offers two distinct editions, each with robust features: Adobe Commerce and Magento Open Source.
As the name suggests, Magento Open Source is the open-source version, similar to its original premise, while Adobe Commerce is tailored towards larger businesses, providing premium support and hosting options. However, the latter also comes with a higher cost and complexity. This is where WooCommerce steps in as a more attractive alternative for many businesses.
Several key reasons have led businesses to consider migrating from Magento to WooCommerce, such as:
The cost factor: Adobe Commerce, with its premium offerings, can be a significant investment for small and medium-sized businesses. On the other hand, WooCommerce provides similar flexibility and customization, but at a fraction of the cost.
User-friendliness: WooCommerce is known for its user-friendly interface, making it easier for store owners to manage their online storefronts. This is a stark contrast to Magento's complexity, which often requires a steep learning curve and the need for specialized developers.
In recent years, there has been a noticeable trend of businesses migrating from Magento to other platforms. This shift was primarily triggered by the End of Life (EOL) announcement for Magento 1 in 2020.
Post EOL, Magento ceased to provide support, security patches, or quality fixes for Magento 1. This resulted in a 17% drop in Magento 1 installations, while Magento 2 installations saw a mere 6% increase. This indicates that store owners were exploring other platforms, rather than upgrading to Magento 2.
Besides, as a part of the WordPress ecosystem, WooCommerce enjoys a large community of developers and users, ensuring a wealth of resources, themes, and plugins to help enhance your eCommerce store.
No wonder that WooCommerce currently powers nearly 39% of all online stores as of July 2023, making it a worthy contender for those considering migrating from Magento.
Understanding the pros and cons of Magento and WooCommerce
Before making the decision to migrate from Magento to WooCommerce, it's crucial to understand the pros and cons of both platforms. 
We've covered an overview of the comparison here, but for a more detailed comparison, we suggest you download Saucal's eBook, which provides a comprehensive comparison of major eCommerce platforms, including our two current competitors.
| | | | |
| --- | --- | --- | --- |
| Feature/consideration | WooCommerce | Magento Open Source | Adobe Commerce |
| Ease of use | Easy to install and configure. Good for beginners and experts alike. | Difficult to master. Requires a steep learning curve. | Also difficult to master, targeted at large enterprises. |
| Cost | Free to install but costs can add up with additional features. | Free but the build and maintenance can be expensive. | Very expensive setup and maintenance, revenue-based license costs. |
| Customization | Unlimited customization possibilities. | Extensive but complex customization. | Extensive but complex customization. |
| Scalability | Highly scalable, suitable for small to large stores. | Scalable but may require extensive development work. | Highly scalable, aimed at large businesses. |
| Speed | Known for fast checkout processes. | Can be slow if not properly configured. | Speed depends on your site configuration. |
| Security | Secure, but the owner is responsible for ongoing security measures. | Security is robust but needs good configuration. | Strong security features, especially in the Adobe Commerce Cloud version. |
| Community support | Strong community and lots of online resources. | Large community but less beginner-friendly. | Limited to enterprise-level discussions. |
| SEO capabilities | Strong SEO capabilities due to WordPress integration. | Users praise its SEO capabilities. | Powerful SEO features. |
| Content management | Strong content management due to WordPress. | CMS is less user-friendly. | CMS is less user-friendly compared to WordPress. |
| Hosting flexibility | Hosting freedom. | Freedom to choose your own hosting provider. | On-premise or cloud-hosted options at a cost. |
| Technical support | Requires technical support as you scale. | Requires technical expertise or developer support. | Comes with premium support but at a high cost. |
| Shipping and tax options | Flexible shipping rates, and correct cart totals for taxes. | Customizable but more complex to set up. | Advanced features available. |
| Payment gateways | Supports a wide range of payment gateways. | Extensive but may require custom development. | Extensive and advanced but at a cost. |
| Analytics and reporting | Basic analytics available, more through extensions. | Basic analytics available. | Extensive analytics and reporting. |
| Marketing and promotions | Basic but can be extended via plugins. | Advanced but may require custom development. | Advanced marketing and promotion capabilities. |
While both platforms have their strengths and weaknesses, WooCommerce emerges as a more user-friendly and cost-effective solution for a broad range of eCommerce stores – from small startups to large enterprises.
Its ease of use, combined with scalability and a strong community, make it a versatile choice for many businesses. With Magento, you may get scalability and features, especially with the Commerce edition, but at a much higher cost and complexity level.
Therefore, if you're a small to medium-sized business looking for a cost-effective yet robust eCommerce solution, WooCommerce might be the better choice.
Planning your migration: Factors to consider
The process of migrating from Magento to WooCommerce requires careful planning and preparation. Here are a few key factors you should consider:
The amount and type of data: The volume and nature of the data you plan to migrate will directly impact the time and resources required for the process. For instance, migrating a large amount of customer and product data would require more time and meticulous planning to ensure data integrity.
Complexity of the store: The more complex your store, the more complex the migration process will be. It's important to ensure that all functionalities are replicated or improved in the new platform.
Need for customizations or extensions: If your Magento store uses customizations or extensions, you'll need to verify whether these can be supported by WooCommerce, or if alternatives need to be found. This can affect both the cost and complexity of the migration.
Potential impact on SEO: A poorly managed migration can negatively impact your SEO, leading to a loss in organic traffic. Factors such as URL structure, metadata, redirects, and site speed need to be carefully managed during the migration process.
It's also important to be aware of the potential challenges and risks associated with migration. These could include data loss or misplacement, downtime during the migration process, and compatibility issues with existing extensions or customizations. With careful planning and the right resources, these risks can be effectively managed and minimized.
Manual process vs. using migration plugins
When it comes to migrating from Magento to WooCommerce, you have two main options: a manual process or using migration plugins. Each approach has its pros and cons, and the best choice depends on your specific situation and resources.
Manual process
Using migration plugins
Pros
Total control: A manual migration gives you complete control over the process, allowing for tailored data transfer and optimization.
No additional costs: Since you're not using a plugin, there are no additional costs involved.
Simplified process: Plugins automate the migration, making the process faster and simpler.
Lower risk: The risk of data loss or errors is lower as the process is standardized and automated.
Cons
Technical skills required: A manual migration requires substantial technical skills and knowledge about both Magento and WooCommerce.
Time-consuming: Since every detail needs to be handled manually, the process can be time-consuming.
Risk of data loss: If not done correctly, there's a high risk of data loss or errors.
Additional costs: There are costs involved in purchasing and possibly maintaining the plugin.
Limited support: Some plugins may not support all customizations or specific data types, limiting the migration scope.
Third-party risks: You're relying on a third-party tool that may have its own issues and bugs.
Which approach is right for you?
A manual migration might be more suitable if you have a highly customized or complex store where a standard plugin may not suffice, or if you have access to skilled technical resources who can handle the migration effectively.
On the other hand, migration plugins could be a better fit for businesses with standardized eCommerce setups with little to no customizations, limited technical resources or skills in-house, or quick transition needs due to time constraints.
If you lack the technical expertise to handle the migration yourself, it's worth considering outsourcing the work to reduce the risk. Saucal is a trusted partner who can assist with a safe and secure migration to WooCommerce, ensuring a smooth transition for your online store.
Step-by-step guide to manually migrating from Magento to WooCommerce
For those who prefer to manually handle the migration process from Magento to WooCommerce, here's a detailed step-by-step guide to help you navigate the process smoothly.
Step 1: Backup data from Magento
Before starting the migration process, it's vital to back up your Magento data. This ensures that you have a safety net in case of any issues during the migration.
Navigate to the Admin sidebar and select System, then Tools, and finally, Backups.
In the top right corner, select the desired backup type. For migration, you'll need to back up everything, which requires a system backup. To include the media folder, ensure you tick the Include Media folder to System Backup checkbox.
If you want to enable maintenance mode during the backup process, tick the relevant checkbox. After the backup is completed, the maintenance mode will be disabled automatically.
When asked, confirm your action to start the backup process
During this process, you may face a few challenges, such as managing large amounts of data and ensuring the backup data is secure from unauthorized access. Larger backups may take a longer time, affecting system performance, and require more storage space, which can impact cost. However, having a complete backup is essential to safeguard your data.
Step 2: Set up a WooCommerce store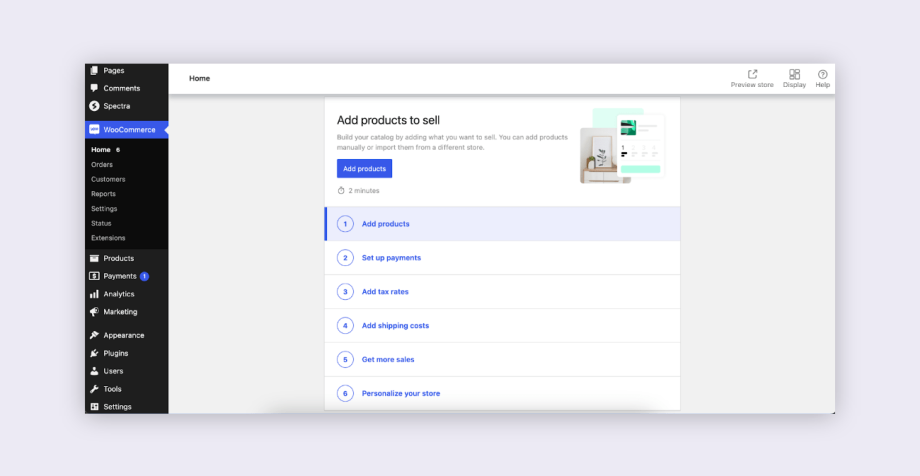 Once you've backed up your Magento data, the next step is to set up your WooCommerce store.
Choose a hosting provider that supports WordPress and WooCommerce.
Install WordPress on your hosting platform.
Install and activate WooCommerce. After installation, activate the plugin and follow the steps prompted by the setup wizard.
Pick a theme during the setup.
Add any required extensions.
Step 3: Convert and import data into WooCommerce
The next step in the migration process is to convert and import your data from Magento to WooCommerce. This includes your products, customers, and orders.
Prepare Magento data: Ensure your Magento data is correctly formatted and clean for the transfer. This includes your products, customers, and orders. This could mean doing a data audit and cleaning up any inconsistencies.
Export Magento data: Magento has built-in functionality that allows you to export data. Go to the Admin Panel, navigate to System > Export, and select the data types (products, customers, orders) to be exported. Save the exported data as CSV files.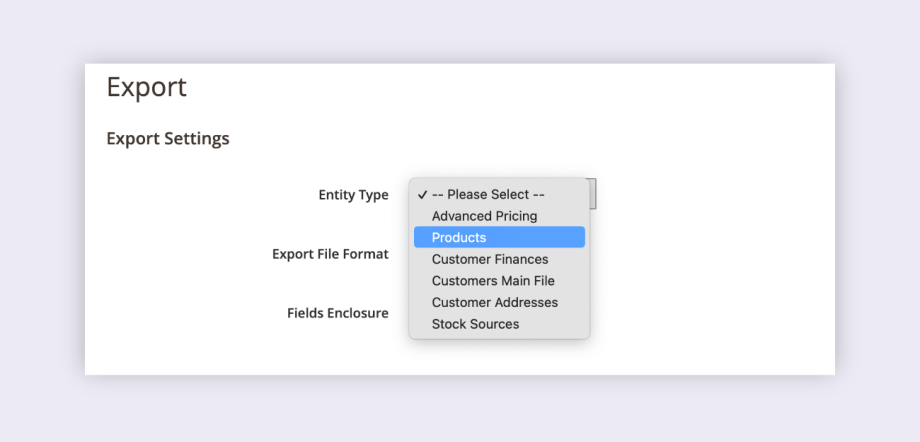 Format data for WooCommerce: The exported CSV files may need formatting to match the WooCommerce structure. This includes aligning column headers, data types, and specific format requirements.
Import data to WooCommerce: In the WooCommerce dashboard, navigate to Add Products > Import your products from a CSV file. Upload the formatted CSV file and follow the steps to map the CSV file columns to the appropriate WooCommerce fields. Note that this importer can be used only for products. To import orders and customers, you might need to use an external plugin, like Import Export Suite for WooCommerce.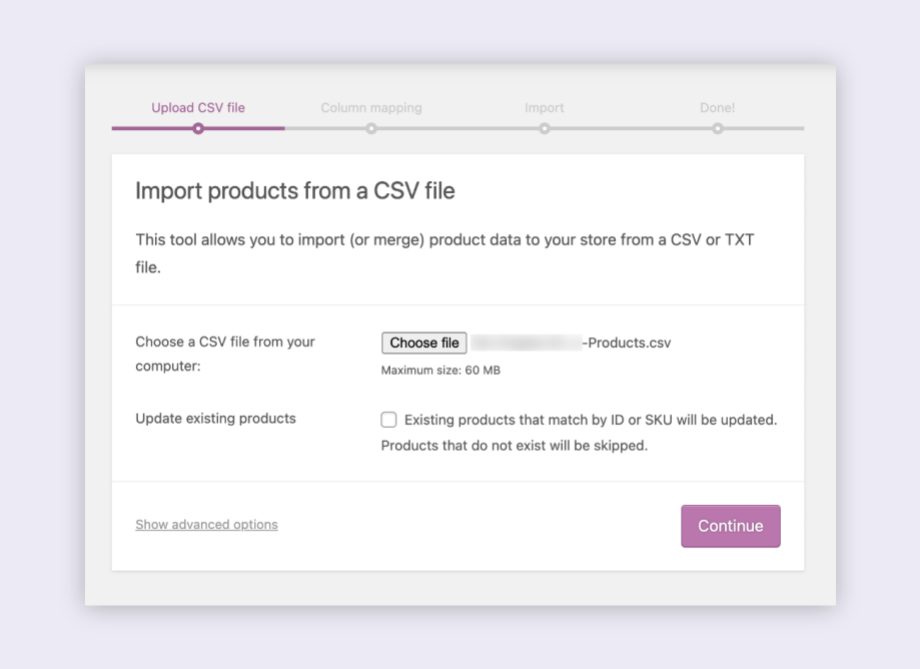 Check and validate data: After the import process is completed, check and validate your WooCommerce store to make sure all the data migration has been done correctly.
Step 4: Configure settings and options
Once your data has been successfully imported, you need to configure various settings and options in WooCommerce to match your Magento store.
General settings: Set the store address, currency, and general settings in WooCommerce. You can find these settings under WooCommerce > Settings > General.
Products: Configure product settings such as weight unit, dimension unit, product ratings, and product reviews. The settings are under WooCommerce > Settings > Products.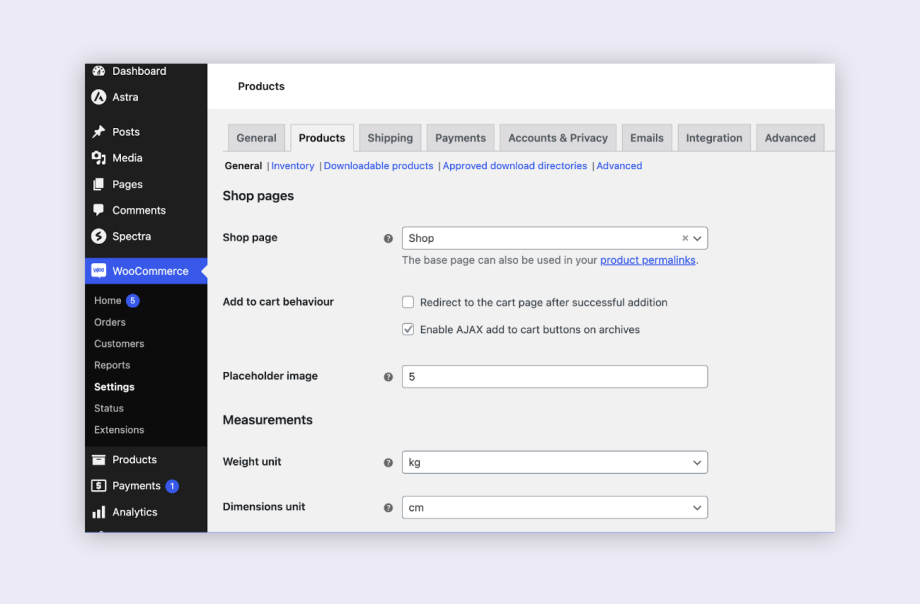 Tax: Define your tax classes and tax rates under WooCommerce > Settings > General > Enable tax rates and calculations.
Shipping: Set up shipping zones, methods, and rates according to what was set in Magento. You can do this under WooCommerce > Settings > Shipping.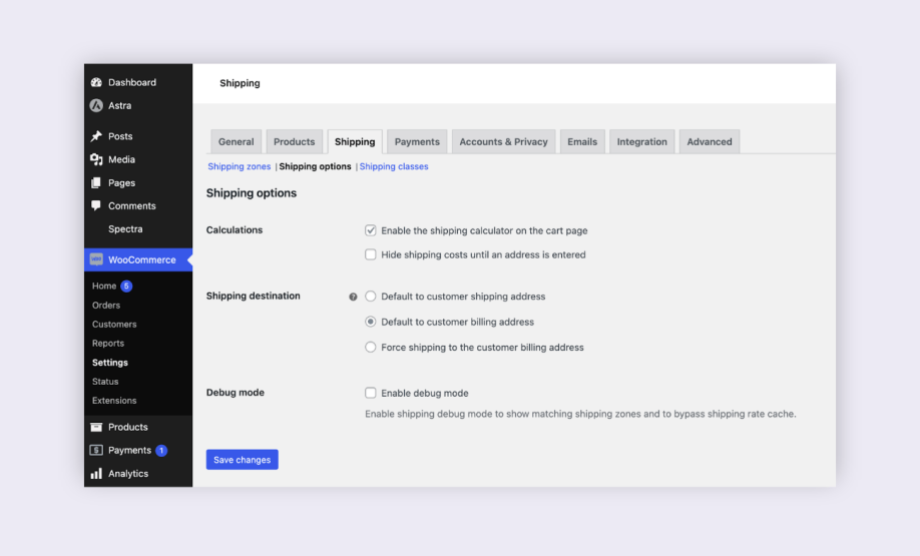 Payments: Set up the required payment gateways. WooCommerce supports various payment methods, and you should choose those that match your Magento store. Go to WooCommerce > Settings > Payments.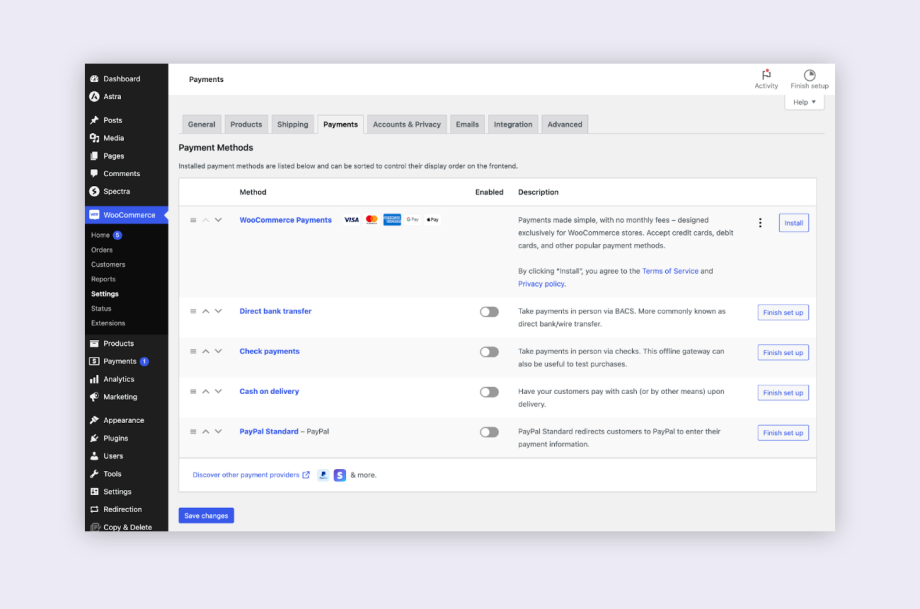 Accounts and privacy: Configure settings for customer accounts and privacy to match those in Magento, such as account creation, account erasure, and personal data retention. The settings can be found under WooCommerce > Settings > Accounts & Privacy.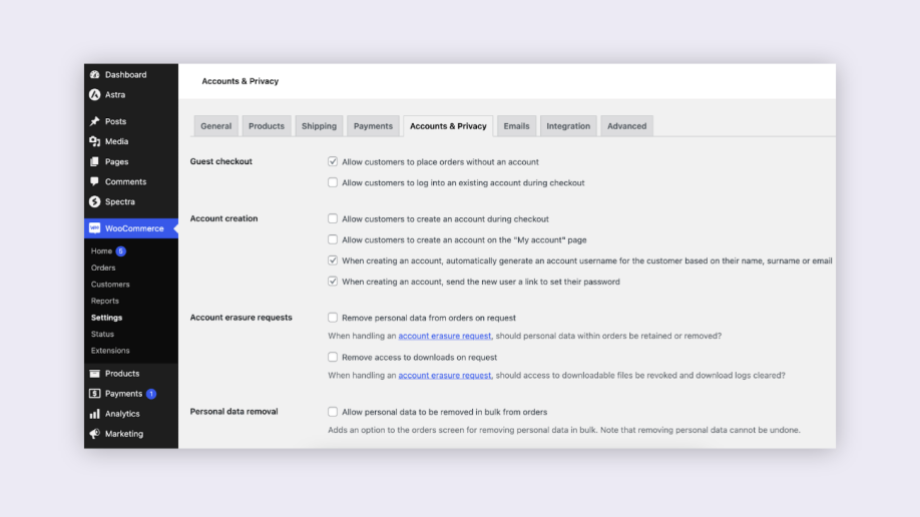 Emails: Customize the email notifications sent from your store to customers. These include emails for new orders, canceled orders, completed orders, and more. These settings are available under WooCommerce > Settings > Emails.
Permalinks: To ensure SEO continuity from your Magento store, you need to structure your WooCommerce URLs to mirror your Magento URLs as closely as possible. You can configure this under Settings > Permalinks.

Step 5: Test functionality and data integrity
After completing the arduous task of migrating all your data from Magento to WooCommerce, it's essential to check if all your functionalities are working properly and if all your data has been imported successfully.
Skipping proper testing could lead to catastrophic issues like data inconsistency, broken functionalities, poor user experience, SEO penalties, and abysmal performance. These could potentially drive away customers and dent your brand reputation. So, before you launch, let's make sure you put your new WooCommerce store through the following comprehensive set of tests.
1. Data consistency
Confirm that all your products, categories, orders, customer details, and other essential data have been accurately transferred.
How to test:
Count the number of products, categories, and customers in both your Magento and WooCommerce stores. The numbers should match.
Randomly pick items and cross-reference them between the two platforms to check for details like SKU numbers, pricing, and inventory levels.
Make sure that metadata and other SEO-related details are consistently imported.
Inconsistent or missing data will not only confuse your customers but also create inventory and accounting nightmares.
2. Functionality
Check all site functionalities, including the checkout process, payment gateways, product filters, and shipping options.
How to test:
Walk through the entire sales funnel – product selection, cart addition, checkout – and look for any hiccups.
Test all payment methods to ensure they are working correctly.
Confirm that all plugins are operational.
A broken function can halt your sales and create a terrible first impression.
3. User experience
Test the navigational flow, mobile responsiveness, and general usability of the site.
How to test:
Use the site on various devices to check for responsive design.
Browse the site as a new customer and as a returning one to see if there are any obstructions to the user journey.
Poor user experience can drive away even the most loyal customers.
4. SEO
Make sure that your WooCommerce store's SEO elements like URLs, meta descriptions, and page titles have been imported correctly.
How to test:
Use SEO audit tools to crawl your site and identify any missing elements.
Ensure that old URLs are correctly redirected to new ones to maintain link equity.
Poor SEO optimization can drastically reduce your site's visibility on search engines.
5. Performance
Test load time, mobile performance, and stress testing for high traffic situations.
How to test:
Use performance testing tools to measure page load times.
Simulate high traffic scenarios to ensure your hosting can handle the load.
Poor site performance can lead to lost sales and frustrated customers.
Pro tip: Testing all your migrated data and ensuring data integrity can be a long and tedious process. Saucal is home to a team of expert quality analysts who can take this responsibility off your shoulders while making sure that your newly migrated Woo store is up and running in no time!
Step 6: Implement customizations if needed
Depending on your specific needs, you might need to implement customizations in WooCommerce. Here's how you can do it:
Themes and layouts: You can change colors, fonts, layouts, etc., through theme customization options or CSS.
Extensions and plugins: If some functionalities from your Magento store aren't available by default in WooCommerce, you can use plugins to implement them.
Code customizations: For more specific or complex customizations, you might need to edit WooCommerce's PHP code or hire a developer. Keep in mind that direct code modifications can complicate future updates, so they need to be handled carefully.
Step 7: Perform final testing
Congratulations, you've made it this far! You've diligently migrated your data, ensured functionality, scrutinized user experience, optimized SEO, and fine-tuned performance. But before you click that "Go Live" button, there's one more essential step – final testing.
You have a responsibility to your customers – and your business – to ensure that your WooCommerce store is nothing short of flawless from the moment it goes live.
Here's what your final testing should involve:
Speed testing
Online shoppers are impatient. A page that takes too long to load will have customers leaving before they even get a glimpse of your products.
So, it is essential to measure the load times for your website, especially on crucial pages like the home page, product page, and checkout page.
You can use tools like Google PageSpeed Insights, GTmetrix, or Pingdom to analyze your load times and make necessary adjustments.
Load testing
Big sale events, marketing campaigns, or going viral can bring in a massive amount of traffic. You need to make sure your website can handle it.
Assess the behavior of your website under peak loads. This means simulating a large number of users navigating and buying products simultaneously.
Tools like Apache JMeter and LoadImpact can help you simulate multiple users and measure your site's performance under different scenarios.
Stress testing
Knowing your limitations helps you prepare contingency plans and informs you when it's time to upgrade your resources.
Stress testing takes load testing to the next level by identifying the breaking point of your website.
Use the same tools as in load testing but increase the number of users and connections exponentially until you find the breaking point.
Responsiveness testing
A significant chunk of online shopping is done via mobile devices. Your site needs to function seamlessly whether accessed from a desktop, tablet, or smartphone.
Test how your site looks and functions on various devices and screen sizes.
Use built-in browser tools for responsiveness testing, or specialized software like BrowserStack, to simulate different devices and screen sizes.
By performing these tests meticulously, you're essentially conducting a final sweep to ensure that your WooCommerce store is set up for success. Any bottlenecks identified here can be ironed out before they become a massive issue post-launch.
Step 8: Update DNS settings (if changing domain)
If you're changing your domain, you'll need to update your DNS settings. Here is an overview of the steps:
Register the new domain.
Add the new domain to your web host.
Update the nameservers.
Create a new zone file.
Configure DNS records.
Wait for propagation (this can take up to 48 hours).
Step 9: Launch the WooCommerce store and monitor performance
The final step is to launch your WooCommerce store and monitor its performance. This involves reviewing server logs for errors, setting up monitoring for uptime and response times, and regularly reviewing the store's KPIs. Regular monitoring helps you quickly identify and address any issues, ensuring a smooth and efficient operation of your online store.

Post-migration management: Making the most of your WooCommerce site
After successfully migrating to WooCommerce, the work doesn't stop there. Continued monitoring and maintenance are essential to ensure your site's performance and functionality. Here are some tips for optimizing your new WooCommerce site:
Use SEO-friendly practices to increase your site's visibility in search engine results.
Leverage WooCommerce's customization options to enhance your site's appearance and functionality.
Integrate your WooCommerce site with other marketing tools to streamline your marketing efforts.
Despite your best efforts, you may encounter challenges in post-migration management. These could range from technical issues to difficulties in optimizing your site.
This is where Saucal's 24/7 maintenance and support services come in. With Saucal, you can effectively manage your WooCommerce site and quickly resolve any issues that may arise, ensuring the smooth and efficient operation of your online store.
Why choose Saucal for your WooCommerce migration
If you're considering migrating from Magento to WooCommerce, Saucal is the best choice for you. Here's why:
Saucal specializes in WooCommerce development and is recognized as a certified WooExpert.
The team offers a comprehensive range of services, including expert WooCommerce development, new WooCommerce site builds, WooCommerce customization, multi-vendor sites, and 24/7 maintenance and support.
Saucal can serve as an extension of your team, filling knowledge gaps and providing expert support.
The company follows an agile and transparent process, ensuring a clear, no-surprises migration process.
Saucal has a successful track record of helping businesses migrate to WooCommerce and manage their WooCommerce sites, as demonstrated by numerous real-world examples and case studies.
Unsure whether you should work with an expert or go for a DIY approach? Here's why you should consider leaving it to the professionals, according to Kostas Seresiotis, Senior Product Engineer at Saucal:
While there are a lot of guides and how-to articles on the web on how to do such a migration, getting help from experts on the matter will certainly save you time, minimize any potential downtime, and in general make that transition a lot smoother.
Start your migration journey with Saucal now
Migrating from Magento to WooCommerce is a significant decision, but with the right approach and expert help, it can be a smooth and beneficial transition. From understanding the reasons to migrate and the factors to consider, to following a step-by-step migration guide and managing your new WooCommerce site, this article has provided a comprehensive guide to help you navigate the migration process.
Choosing Saucal for your WooCommerce migration offers numerous benefits, including their expertise, comprehensive range of services, and successful track record. With Saucal, you can ensure a smooth migration process and effective management of your WooCommerce site.

Ready to start your migration journey? Contact us today to get started!