Are you on the hunt for the most efficient eCommerce solution for your enterprise-level business? The vast digital market presents an array of options, but two platforms often emerge as top contenders – WooCommerce and Magento (now known as Adobe Commerce).
In this comprehensive article, we look at the key similarities and differences between WooCommerce and Magento. We'll delve into a detailed comparison, highlighting the pros and cons of each platform to equip you with the insights you need to make an informed decision.
From features and performance to security, usability, customization, pricing, and customer support, we'll explore every facet that matters to your business. With this knowledge, you'll be well-prepared to select the eCommerce platform that best aligns with your business goals and needs.
Let's begin!
An overview: WooCommerce vs. Magento (Adobe Commerce)
Choosing the right eCommerce platform is a pivotal decision for businesses as it can influence the functionality, usability, and scalability of your online store, and, ultimately, your bottom line.
Let's now compare the two industry heavyweights: WooCommerce and Adobe Commerce.
What is Magento (Adobe Commerce)?
Adobe Commerce, formerly known as Magento, is a robust, open-source platform that offers two editions: Adobe Commerce and Magento Open Source. While the Open Source version is free and caters to small-to-medium businesses, Adobe Commerce is designed for larger companies requiring more extensive support and functionality.
For the purpose of this article, we are primarily comparing WooCommerce and Adobe Commerce, as this plan is more relevant to enterprise eCommerce businesses.
Adobe Commerce is celebrated for its flexibility, SEO-friendliness, robust product catalog, and a plethora of third-party integrations. It's a preferred choice for medium to large retailers, particularly those in the B2C eCommerce sector.
However, it's worth noting that Adobe Commerce's reputation comes with a caveat – it's known for its steep learning curve and higher complexity, which might pose a challenge for newcomers in the eCommerce field.
What is WooCommerce?
WooCommerce is a popular eCommerce platform that seamlessly integrates with WordPress. This open-source platform is highly customizable, making it a favorite amongst businesses of all sizes. Developers can modify and tailor WooCommerce to meet specific business needs, giving it an edge in flexibility.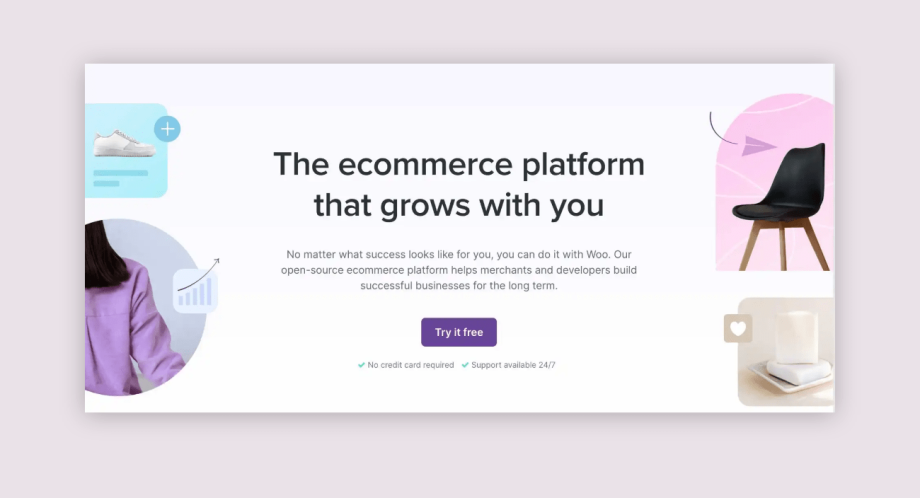 WooCommerce's key selling points include its integration with WordPress, user-friendliness, scalability, and a supportive community. Its reputation in the eCommerce industry is solid, with a large user base that appreciates its affordability and customizability.
Whether you're a small business owner looking to set up your first online store or a large enterprise seeking to scale, WooCommerce offers a solution that can grow with you.
Comparing WooCommerce vs. Adobe Commerce (Magento)
To make an informed decision about the right eCommerce platform for your business, it's essential to delve deeper into the specifics of each platform.
If you're venturing into the realm of WooCommerce, it's pivotal to comprehend the nuances of WordPress, the foundational platform upon which WooCommerce is built. On the other hand, Magento presents its own unique set of offerings, but while it offers robust features, it also demands a certain expertise to harness its full potential.
We'll take a look at the pros and cons of both editions, aiming to give you a panoramic view of what each brings to the table.
Pro-tip: For an in-depth analysis of the major eCommerce platforms – WooCommerce, Adobe Commerce/Open Source, BigCommerce, and Shopify, take a look at our detailed eBook comparing them all.
1. Features
When choosing an eCommerce platform, you'll want a solution that has essential features for optimizing the user experience, backend management, and overall functionality of an online store. Both WooCommerce and Adobe Commerce come packed with an array of features that cater to various business needs.
1.1 Product management
WooCommerce: Built on WordPress, WooCommerce benefits from a user-friendly interface. Product management is straightforward, allowing you to easily add products, set categories, and manage stock levels. It also supports both physical and digital products.
Magento: Magento provides a more complex, but powerful product management system. With the ability to handle a vast number of products, it supports multiple product types like simple, configurable, grouped, and bundled. Attributes and attribute sets further enhance product customization.
1.2 Shopping cart functionality
WooCommerce: WooCommerce offers a simple shopping cart system, facilitating easy checkout processes. Features like guest checkouts, one-click refunds, and geolocation-based tax calculations further augment the shopping experience.
Magento: Magento's shopping cart is renowned for its flexibility and robustness. It supports multi-address shipping, estimated shipping, and tax calculations, and even saves abandoned carts for potential remarketing.
1.3 Payment gateway integration
WooCommerce: With the core platform, WooCommerce supports popular payment gateways like PayPal and Stripe. Additionally, WooCommerce has a vast pool of payment gateway integrations, surpassing by far the options offered by all other eCommerce platforms. This enables you to sell products even in countries where standard or popular payment options may not be available.
Magento: Magento supports a wider range of payment solutions out-of-the-box, including PayPal, Braintree, and Authorize.net. Its extensible architecture means it can integrate with virtually any payment gateway with the help of extensions.
Feature category
WooCommerce
Magento
Product management
User-friendly.
Supports physical & digital products.
Simple categories.
Supports multiple product types.
Advanced customization with attributes.
Shopping cart
Easy checkout.
Guest checkout.
One-click refunds.
Flexible & robust.
Multi-address shipping.
Abandoned cart recovery.
Payment gateway
Supports 70+ payment gateways, including PayPal and Stripe.
Extendable with extensions.
Supports multiple gateways.
Highly extensible.
While WooCommerce is renowned for its simplicity and ease of use, it also offers a depth of features that can cater to larger and more complex stores. The key is to evaluate which features resonate most with your business model and growth aspirations.
2. Pricing
Economic considerations often weigh heavily when selecting the optimal eCommerce platform for your business. Both WooCommerce and Adobe Commerce offer distinct pricing models, each catering to a range of budgetary constraints and preferences.
Magento pricing
Adobe Commerce, previously known as Magento, presents a multifaceted pricing model with several packages tailored to different business sizes and needs:
Magento Open Source: This version is free to download and install. Although the core software doesn't have a price tag, don't mistake it for a no-cost solution. Depending on the scale and intricacy of your online store, using Magento Open Source could set you back anywhere between $10k to $60k, as per certain industry sources.
Adobe Commerce Pro: This premium version offers a suite of advanced features designed for large-scale operations. Pricing for Adobe Commerce Pro can range between $22k to $125k annually, providing robust support and a plethora of features tailored for growing businesses.
Adobe Commerce Cloud: Aimed at enterprises, Adobe Commerce Cloud is a cloud-based solution starting from $40k a year. It amalgamates the power of Adobe Commerce Pro with cloud hosting advantages.
For a more detailed breakdown of Magento's pricing model and what each plan encompasses, refer to Saucal's comprehensive eBook.
WooCommerce pricing
At its core, WooCommerce is a free plugin. However, the operational costs can accumulate when you factor in various essentials:
eCommerce web hosting: While WooCommerce doesn't charge for its software, you'll need to invest in reliable web hosting to ensure your store runs seamlessly.
Domain: Your online store's address on the internet comes at a price. Depending on the domain name's popularity and extension, costs can vary.
SSL certificate: This adds a security layer to your website. Many hosting providers offer this for free or bundle it with their hosting packages.
Web developer: If you're envisioning a tailored look or custom functionalities for your store, hiring a developer becomes inevitable. Notably, Magento developers might be scarcer and potentially more expensive.
Transaction fees: Depending on the payment gateway you choose, transaction fees can chip away at your profits.
Themes: While there are free themes available, premium themes can enhance your store's aesthetics and functionality.
Extensions and add-ons: To add specific features or integrations, you might need to purchase extensions.
In essence, while WooCommerce generally comes off as more cost-effective than Adobe Commerce, expenses can add up depending on your store's requirements and scale.
Pricing Parameter
WooCommerce
Adobe Commerce
Base software
Free (with operational costs).
Magento Open Source: Free.
Adobe Commerce Pro: $22k-$125k/year.
Adobe Commerce Cloud: From $40k/year.
Hosting
Required (varies by provider).
Included in Commerce Cloud; separate for Open Source and Pro.
Domain
Separate cost.
Separate cost.
SSL certificate
Often bundled with hosting.
Separate cost (varies).
Web developer
Availability higher; potentially less expensive.
Availability is scarcer and potentially more expensive.
Transaction fees
Depends on payment gateway.
Depends on payment gateway.
Themes & extensions
Wide range available; both free and paid.
Premium features often included in Pro and Cloud; extensions available for Open Source.
Your choice between WooCommerce and Adobe Commerce will hinge not just on upfront costs but on future scalability and feature considerations. Opting for WooCommerce could be a strategic move for your business, considering its minimal initial costs and extensive scalability options. This platform not only makes it financially accessible to get started thanks to its free base software but also supports your business's growth trajectory with a wealth of customizable options.

3. Performance
Performance plays an undeniably pivotal role in the success of an eCommerce website. Faster loading times, efficient responsiveness, and an intuitive user experience not only enhance customer satisfaction but also boost search engine rankings.
As two of the foremost eCommerce platforms, both WooCommerce and Adobe Commerce have their strengths and areas requiring attention when it comes to performance.
Adobe Commerce performance
Speed and performance: Magento stands out when it comes to managing expansive product catalogs and multifaceted eCommerce functionalities. However, its resource-intensive nature implies that achieving top-notch site speed demands robust hosting solutions.
Hosting requirements: For Magento-powered sites, especially those managing heavy traffic and extensive product listings, dedicated hosting or cloud-based solutions are a prerequisite. Opting for managed hosting or cloud hosting with tailored server resources is often the best bet.
Optimization options: Within Magento, there's a suite of optimization mechanisms at your disposal. Caching, indexing settings, and streamlined database operations can be configured to enhance speed. Additionally, leveraging third-party optimization tools and services can further fine-tune performance.
WooCommerce performance
Speed and performance: WooCommerce's performance is intrinsically tied to the quality of hosting and the number of plugins employed. Keeping your WooCommerce site lean by using essential plugins and ensuring quality hosting can provide an optimized speed experience.
Hosting requirements: While smaller WooCommerce stores can operate efficiently on shared hosting, medium to large-scale operations should consider dedicated or cloud hosting to handle higher traffic loads and data management. Saucal has several managed hosting plans in partnership with leading enterprise hosting providers like Convesio, which can easily handle performance and scalability for enterprise-level stores.
Optimization options: WooCommerce users benefit from a vast repository of plugins to bolster site performance. From caching plugins and image compression tools to SEO and database optimization plugins, there's a solution for nearly every performance-related challenge.
Performance parameter
WooCommerce
Magento
Site speed factors
Influenced by hosting, themes, and plugins.
Resource-intensive.
Excels with robust hosting.
Hosting requirements
Shared hosting for small sites.
Dedicated/cloud for larger sites.
Dedicated/cloud-based for larger sites.
Managed hosting is recommended.
Optimization options
Rich plugin ecosystem.
Offers caching, image compression, SEO.
Built-in options: caching, indexing.
Third-party tools available.
When gauging performance, it's crucial to recognize that both platforms have the capability to deliver blazing-fast and user-friendly eCommerce experiences. The crux lies in appropriate hosting, optimal configurations, and diligent performance monitoring.

4. Plugins and add-ons
The power of any eCommerce platform is enhanced exponentially by the availability and versatility of its plugins and add-ons. These extensions not only bolster functionality but also ensure that your online store remains adaptable to evolving business needs and customer preferences.
Magento plugins and add-ons
Adobe Commerce boasts a vast array of both free and premium third-party extensions. The Adobe Commerce Marketplace is a hub of innovation, hosting thousands of apps, extensions, and integrations designed to supercharge your eCommerce store.
Diversity: While many platforms offer a wide range of plugins, what sets Adobe Commerce apart is the concentration of eCommerce-specific extensions. These tools span across crucial sectors like accounting, marketing, sales, security, analytics, customer support, and more.
Quality: Adobe Commerce's commitment to quality ensures that the extensions available on its marketplace undergo rigorous testing and are optimized for the best possible user experience.
WooCommerce plugins and add-ons
WooCommerce, built atop the WordPress ecosystem, leverages the immense versatility WordPress offers:
Volume: With 815 dedicated WooCommerce extensions available on WooCommerce.com and an additional 59,000+ WooCommerce and WordPress plugins accessible via the WordPress directory, the platform offers unmatched diversity in extensions.
Customization: From tweaking product types and managing your store to refining marketing strategies, integrating payment solutions, or streamlining shipping processes, the plugins available to WooCommerce users cover virtually every facet of online commerce.
| | | |
| --- | --- | --- |
| Parameter | WooCommerce | Magento |
| Number of extensions | 815+ on WooCommerce.com; 59,000+ WordPress plugins. | Thousands of apps, extensions, and integrations. |
| Types of extensions | Product customization, store management, marketing, payments, shipping, and more. | Predominantly eCommerce-centric: accounting, marketing, sales, security, analytics, etc. |
While both platforms have a myriad of plugins and add-ons to offer, the choice boils down to specific needs and preferences. Adobe Commerce caters primarily to an eCommerce-focused audience, whereas WooCommerce, with its WordPress roots, provides a broader spectrum of options.
5. Ease of use
A platform's user-friendliness can significantly impact the speed at which you can set up, maintain, and scale your online store.
While both WooCommerce and Adobe Commerce are renowned for their powerful capabilities, their user experiences are tailored for different user bases. Here's a detailed look at each platform's usability facets.
Magento ease of use
Adobe Commerce is an eCommerce juggernaut tailored for seasoned web development professionals and businesses that deal with medium to large online store operations.
Technical prowess required: The platform demands a certain degree of technical acumen, making it less suited for the novice user or those unfamiliar with web development.
Setup complexity: New users might find the store setup process intricate and time-consuming.
Customization: While the platform offers unmatched customization, bringing your vision to life may necessitate hiring skilled developers.
Highly adaptable: Its emphasis on performance, scalability, and customization makes Adobe Commerce the go-to choice for large-scale operations dealing with vast product catalogs and high traffic.
WooCommerce ease of use
WooCommerce is often hailed for its beginner-friendly architecture, a haven for both the uninitiated in eCommerce and seasoned developers.
Intuitive dashboard: Its dashboard is renowned for its simplicity, ensuring tasks like product uploads, order management, and analytics tracking are hassle-free.
Quick start: With a handy setup wizard and extensive documentation, even those new to the eCommerce realm can get their store running swiftly.
Seamless WordPress integration: Being a WordPress plugin, WooCommerce provides an easy transition for those familiar with the WordPress ecosystem.
Continuous enhancements: Regular updates keep the user experience fresh and intuitive, backed by a passionate community offering resources for almost any challenge.
| | | |
| --- | --- | --- |
| Parameter | WooCommerce | Magento |
| Target user base | From beginners to large stores, enterprise organizations, and more. | Web development professionals & large online stores. |
| Setup ease | Setup wizard & comprehensive documentation. | More intricate, especially for new users. |
| Customization ease | User-friendly with extensive plugins. | High level of customization, may require developers. |
| Integration & support | Seamless with WordPress, strong community support. | Focused on performance & scalability. |
If you're on the lookout for an eCommerce platform that is highly intuitive, catering to beginners and experts alike across all business sizes, WooCommerce stands out. Magento is complex and suitable only for technically adept businesses that need the depth and scale it offers.

6. Scalability
As an eCommerce platform, the ability to adapt to growing demands – be it traffic spikes, product proliferation, or feature expansion – is paramount. Magento and WooCommerce, both vying for your attention, come with distinct scalability propositions.
Adobe Commerce scalability
Adobe Commerce, with its robust infrastructure, is a force to reckon with when it comes to scalability.
Targeted at large-scale operations: Adobe Commerce is optimized for handling stores with extensive inventories (over 1000 products). It facilitates the management of large product catalogs with ease.
Advanced solutions at a premium: The platform offers various solutions and extensions, typically at an additional cost. It requires a more substantial investment for scaling, catering to more extensive, demanding businesses.
Robust infrastructure: Magento presents cloud-based solutions, ensuring stability and performance for high traffic and extensive databases. It provides the necessary backbone for enterprises at a significant scale.
Scalability with considerations: It delivers proficient scalability, especially for multi-channel commerce. However, it has higher cost implications, necessitating increased support and expertise for effective site management.
WooCommerce scalability
WooCommerce, while inherently user-friendly, is no slouch when it comes to scalability.
Unparalleled scalability: WooCommerce offers an unlimited product listing, accommodating continuous growth. It adapts to increasing demands, efficiently handling extensive product catalogs.
Cost-effective expansion: The platform provides a wide selection of free and premium extensions. It also enables enhancements without imposing a financial burden, ideal for small to medium businesses.
Customization and flexibility: WooCommerce accommodates the need for additional themes, plugins, and custom coding during scaling. It can easily manage potential compatibility issues, emphasizing flexibility in store design and functionality.
Comprehensive scalability support: As a robust eCommerce solution, it ensures performance optimization, efficient traffic handling, and seamless database management. It controls cost implications effectively, allowing for strategic resource allocation and expense management.
| | | |
| --- | --- | --- |
| Parameter | WooCommerce | Adobe Commerce |
| Product handling | Unlimited products, accommodating all sizes of online stores. | Best suited for stores with over 1000 products. |
| Solutions & extensions | Numerous free and premium extensions available. | Wide range of extensions, often at an additional cost. |
| Customizability | High customizability, allowing for extensive scalability. | Offers scalable solutions but can be less flexible in customization. |
| Performance optimization | Requires careful management but offers comprehensive options for optimization. | Robust, with built-in features for performance optimization. |
| Server resources | Adjustable based on needs, with varying cost control. | Often demands more substantial, costlier infrastructure. |
| Traffic handling | Can be optimized to handle significant traffic, depending on hosting. | Designed for high traffic demands with cloud-based solutions. |
| Database management | Flexible but may require additional expertise as the store grows. | Handles vast databases efficiently but can be complex to manage. |
| Integration challenges | Can face compatibility issues but is generally easier to integrate new solutions. | Might present integration challenges with external systems. |
| Cost implications | Scalability at controlled costs, with options for budget adjustments. | Higher costs for scaling, particularly for support and infrastructure. |
| Support & expertise | Available from various sources, potentially at lower costs. | Requires higher levels of expertise, often at a premium. |
When it comes to scalability, WooCommerce presents itself as the superior option for most businesses, especially those mindful of costs. It not only supports your growth right from the outset but also ensures you're not financially overextended as you expand. The platform's flexibility, accompanied by control over cost implications, positions WooCommerce as the go-to e-commerce solution poised to cater to the scalability needs of diverse online enterprises.

7. Security
In an era marked by increasing cyber threats, security is paramount for eCommerce platforms. Adobe Commerce and WooCommerce, as leading contenders, offer a variety of security provisions to keep your online enterprise safe.
Adobe Commerce security
Adobe Commerce brings a robust set of security features designed for rigorous online commerce:
Enhanced protection: From advanced password management to cross-site scripting attack prevention, Adobe Commerce has you covered.
Data sovereignty: The platform allows businesses to exercise total control over consumer data and financial security, providing peace of mind.
PCI compliance: As a PCI-certified Level 1 Solution Provider, Adobe Commerce not only complies with crucial industry standards but also aids merchants in their PCI certification journey.
Dynamic security tools: Staying abreast of the evolving cyber threat landscape, Adobe Commerce offers security scanning tools that are always updated, ensuring that your store is shielded against both current and emerging threats.
WooCommerce security
WooCommerce, building upon WordPress's legacy, offers a secure foundation with a caveat:
Solid core: At its heart, WooCommerce has a robust core system inherited from WordPress, providing a secure starting point.
Third-party extension vulnerabilities: While WooCommerce itself is secure, introducing third-party extensions can pose risks. Hence, it's vital to exercise caution and thoroughly vet extensions.
Security measures: There are several precautions available to fortify your WooCommerce store. Whether it's through plugins or best practices, the tools are available to ensure your store remains a digital fortress.
Cost-effective security management: With WooCommerce, businesses have the option to delegate security management to third-party services, often at a fraction of the cost when compared to Adobe Commerce's offerings. For instance, Saucal's managed WooCommerce services include comprehensive store security and access monitoring which ensures complete data integrity. This is particularly advantageous given WooCommerce's inherently cost-effective nature.
| | | |
| --- | --- | --- |
| Parameter | WooCommerce | Magento |
| Core security | Robust, with continuous audits by the WordPress community. | Enhanced with features like advanced password management and XSS prevention. |
| Data control & financial security | Dependent on user management and third-party services. | Strong emphasis on consumer data protection and financial security. |
| PCI compliance | Users handle their compliance; plugins available for support. | Direct support for PCI compliance. |
| Vulnerabilities with extensions | Possible when using third-party extensions. | Less frequent due to stricter vetting in the marketplace. |
| Security updates & scanning tools | Available, but might require third-party plugins. | Regularly updated security scanning tools. |
| Outsourcing security management | Option to outsource to third-party services, often more cost-effective. | Typically more expensive due to the comprehensive nature of the platform. |
While Adobe Commerce offers a comprehensive, enterprise-grade security package, WooCommerce empowers its users with the flexibility and resources to construct a secure eCommerce environment at a more manageable cost. This balance of security and affordability makes WooCommerce an attractive option for businesses of all sizes.

8. Marketing and Search Engine Optimization (SEO)
Marketing and SEO go hand in hand in propelling an eCommerce business to the forefront. Both Adobe Commerce and WooCommerce understand this pivotal role, offering a suite of tools to amplify your brand's reach and visibility.
But how do these platforms compare when it comes to optimizing websites for search engines and integrating marketing strategies?
WooCommerce marketing & SEO
Originating from the WordPress ecosystem, WooCommerce leverages its parent platform's content prowess:
Content marketing kingpin: Being integrated with WordPress, WooCommerce naturally excels in content marketing and blogging. Brands can weave stories around their products, ensuring a holistic marketing approach.
SEO at its core: While WooCommerce is inherently SEO-friendly, its extensibility means you can bolster SEO capabilities using a plethora of plugins, ensuring higher rankings and visibility.
Hands-on optimization: While its SEO foundations are solid, WooCommerce leaves room for users to fine-tune specifics. Whether it's optimizing product descriptions, themes, or additional content, the user is in the driver's seat.
Adobe Commerce marketing & SEO
Adobe Commerce, with its enterprise-leaning features, presents a comprehensive marketing suite:
Inbuilt mastery: It boasts a robust inbuilt SEO toolset. Whether it's managing metadata, crafting SEO-friendly URLs, or structuring data, Adobe Commerce is armed to the teeth.
Marketing command center: The platform's marketing menu becomes your command center, allowing management of promotions, SEO, and content from a singular hub.
Blogging blues: One noticeable absence is the lack of default blog functionality. However, this gap can be bridged with custom blog extensions, ensuring that businesses don't miss out on content marketing opportunities.
| | | |
| --- | --- | --- |
| Parameter | WooCommerce | Adobe Commerce |
| Content marketing | Integrated with WordPress, offering strong content marketing and blogging capabilities. | No default blog functionality; requires a custom blog extension. |
| SEO tools | SEO-friendly, with an option to optimize further using plugins. | Powerful inbuilt SEO toolset for comprehensive optimization. |
| User control | High; users have full control over content optimization. | Streamlined within platform; less granular control. |
| Marketing management | Depends on integrated WordPress plugins for a comprehensive marketing dashboard. | Dedicated marketing menu for managing promotions, SEO, and content. |
| Social media & email integration | Extensive with plugins. | Available, but might need third-party integrations for more extensive features. |
WooCommerce provides a versatile and customizable environment, especially beneficial for those looking to leverage content marketing alongside traditional eCommerce SEO. Its user-friendly interface, combined with the power of WordPress, makes WooCommerce an ideal solution for businesses aiming to make a mark in the competitive online marketplace.

9. Support
Every journey, no matter how smooth, encounters a few bumps. For eCommerce platforms, support is the shock absorber that smoothens out these bumps. Both WooCommerce and Adobe Commerce provide varying shades of support, ensuring that businesses are never left stranded.
WooCommerce support
Being part of the WordPress family has its perks, and for WooCommerce, this translates into an expansive community:
Rich online resources: WooCommerce users can tap into an extensive array of online resources. The platform's documentation is thorough, covering everything from basic setup to advanced features.
Community forums: Perhaps the most dynamic aspect of WooCommerce support is its community forums. These platforms are bustling with active users, ready to provide advice, share experiences, and offer solutions to common problems.
Developer dependence: For more intricate issues or custom implementations, store owners may need to hire a developer. While this is an additional cost, the trade-off is a level of customization and flexibility unparalleled by more rigid platforms.
Unofficial channels: Numerous unofficial channels, blogs, and YouTube tutorials from other users can provide real-world solutions and innovative workarounds not covered in official resources.
Adobe Commerce support
As an enterprise-grade platform, Adobe Commerce ensures that users have a structured, official support system:
In-depth guides: Adobe Commerce offers detailed troubleshooting and maintenance guides, ensuring users have a roadmap for every challenge they face. The platform's robust knowledge base is a treasure trove featuring FAQs, step-by-step instructions, and popular articles.
Direct updates: Users are never in the dark when it comes to platform enhancements or critical updates. Direct communications from the Adobe Commerce teams ensure everyone is on the same page.
| | | |
| --- | --- | --- |
| Parameter | WooCommerce | Adobe Commerce |
| Official support | Extensive online documentation. | Detailed guides, diagnostics, and best practice recommendations. |
| Online resources | Extensive, due to a vast WordPress and WooCommerce community. | Robust knowledge base with FAQs, instructions, and articles. |
| Community forums | Vibrant, with diverse users helping each other out. | Available but might be more enterprise-focused. |
| Developer assistance | Often necessary for complex customizations; vast pool of developers available. | Might be required for intricate customizations, with more specialized (and potentially costlier) experts. |
| Platform updates | Available through the WordPress ecosystem. | Direct communications and important updates from the Adobe Commerce teams. |
Choosing WooCommerce allows for a more involved, community-driven experience. It's ideal for those who appreciate learning from various sources and enjoy a sense of communal innovation. The potential need for a developer is not just a cost consideration but an opportunity for customization that truly fits your vision and brand.
Pros and cons: Weighing your options
Making a wise decision involves a clear understanding of the strengths and weaknesses inherent in your choices. When it comes to eCommerce platforms, both WooCommerce and Adobe Commerce come with their set of advantages and disadvantages.
Here's a final overview to discern which aligns well with your business needs.
WooCommerce vs. Adobe Commerce
WooCommerce
Adobe Commerce
Pros
Cost-effectiveness: Being a free platform, WooCommerce allows for budget-friendly eCommerce setups. The savings could be redirected towards outsourcing technical support or investing in other areas of your business.
User-friendly design: With an intuitive interface and a simpler setup process than Adobe Commerce, WooCommerce is less daunting for newcomers.
Content marketing prowess: The WordPress backbone of WooCommerce translates into superior blogging and content marketing capabilities.
Extensive plugin ecosystem: The WordPress community offers a plethora of plugins and themes that can be leveraged to enhance and personalize your store.
Community support: A vibrant community and abundant online resources can be a boon when troubleshooting issues or seeking advice.
Excellent scope for scalability: With a variety of options available for plugins, hosting upgrades, and developer services, you can easily scale your store to ensure it can handle increased traffic and sales.
Robust eCommerce features: Tailored for large-scale operations, Adobe Commerce offers a comprehensive suite of powerful eCommerce tools.
Strong SEO capabilities: The platform has advanced SEO features to help businesses rank higher on search engines.
High performance: Speed and performance are one of its strong suits, ensuring a seamless user experience.
Top-notch security: With superior security measures and PCI compliance, Adobe Commerce is a fortress for your online business.
Scalability: It's built to accommodate growth with ease, ensuring your platform remains robust as your business expands.
Professional support resources: A structured support system coupled with detailed resources aids in troubleshooting and leveraging the platform optimally.
Cons
Performance tuning required: Achieving optimal speed and performance might necessitate additional resources and optimizations.
Security concerns with extensions: While the core platform is secure, third-party extensions could introduce vulnerabilities.
Unexpected costs: While the platform is free, premium plugins, hosting, and developer fees can add up.
Traffic handling dependence: The ability to handle high traffic efficiently is contingent on the chosen hosting provider.
Premium pricing: The substantial costs for its premium services can be a barrier for new businesses or startups.
Technical expertise needed: Customization and optimal usage require a level of technical acumen, making it less accessible for beginners.
Complex setup: The setup process can be daunting, and there's a steep learning curve to overcome.
Potential high development costs: Custom functionalities can rack up the development costs significantly.
Lacks default blog functionality: For content marketing, a custom blog extension is necessary, which could be an added expense.
The suitability of WooCommerce or Adobe Commerce largely hinges on your business's unique needs and capabilities. Based on a thorough comparison of the two platforms, we recommend WooCommerce, a versatile contender that offers a perfect balance between functionality and budget.
Its user-friendliness, coupled with strong content marketing capabilities, makes it an attractive alternative for businesses of all sizes – from small startups to mega enterprise eCommerce businesses – offering a gentle learning curve and a flexible foundation to build upon.
Expert WooCommerce development with Saucal: Enhance your online store
If you choose WooCommerce, you'll benefit from a user-friendly platform that gives you lots of control. However, there are scenarios where you may need developer assistance:
Customizing your store's appearance or adding specialized functions beyond what themes and plugins offer.
Improving site speed and overall performance, especially for high-traffic sites.
Securing your site beyond basic measures, especially when using third-party extensions.
Troubleshooting issues that go beyond basic support resources.
Connecting your WooCommerce store with external systems like Enterprise Resource Planning (ERP), Customer Relationship Management (CRM), or custom payment gateways.
This is where Saucal comes in.
With a team of certified WooExperts, Saucal offers specialized services for WooCommerce store owners. Whether you're a new business looking to migrate your online store to WooCommerce or an existing enterprise business wanting to scale and improve store performance, Saucal can provide the technical expertise you need.
Our developers can write code and solve complex technical issues, acting as an extension of your current team and enabling you to solve problems faster and more efficiently.
Saucal employs an agile process, offering weekly sprint reviews and flexible billing. This is ideal for businesses preferring an agile work environment, as it allows you to stay informed and involved in your project's progress, making necessary adjustments in a timely manner.
Saucal also offers managed hosting, support, and maintenance plans to keep your online store up and running 24/7. This is particularly beneficial for businesses that lack the resources for regular site maintenance. With Saucal, you can prevent site downtime and ensure a consistent shopping experience for your customers.
Final verdict: Making an informed decision for your eCommerce business
When faced with the choice between WooCommerce and Adobe Commerce, business owners must weigh the unique offerings of each platform against their enterprise's needs and capabilities.
WooCommerce stands out for its user-friendliness and budget-friendly nature. This makes it a prime choice for a wide range of companies, from startups to large-scale enterprise businesses. Its wide array of plugins, themes, and active community bolsters its appeal.
Adobe Commerce excels in areas like SEO, security, and scalability. However, its strengths come at a premium, both in cost and the technical proficiency required for optimal deployment and customization.
Given these considerations, WooCommerce emerges as the preferred platform for a broader range of businesses due to its adaptability, affordability, scalability, and user-centric approach. Here's a synopsis from Kostas Seresiotis, Senior Product Engineer at Saucal:
Overall WooCommerce offers far more flexibility and is the solid & future-proof choice as it allows you to be the owner of your own data, is supported by a huge open-source community, thousands of professionals, and with the help of experts can reliably scale to match your business's growth.
In the end, the right choice depends on your business's specific needs and resources. And remember, for complex development needs, outsourcing to experts like Saucal can help you make the most of WooCommerce.

Keen on choosing WooCommerce? Contact us for expert advice and assistance!