While WooCommerce is one of the most popular eCommerce platforms out there, building a new online store or redesigning an established one requires a solid starting point. When you don't know which way to go, it helps to see other eCommerce stores that are doing it right. There are a variety of businesses, artists, and unique enterprises that have made the most of WooCommerce to create an amazing customer experience. This post explores ten of the best and most inspiring WooCommerce stores for good website design and functionality. But, first, let's look at WooCommerce.
WooCommerce: is it all that?
In a word, yes! WooCommerce is an open-source eCommerce platform built on top of WordPress and allows you to set up an online store quickly and easily, with a number of great features that allow you to customize your online store, set currency options and shipping details, manage orders, accept payment, and so much more, all managed from a single point.
The benefits of using WooCommerce include:
A huge ecosystem to play in
With over 5,000 extensions available, you can add a wide variety of features to your store, for example, payment gateways and shipping integrations. WooCommerce is the most popular ecommerce plugin used by WordPress websites, with over 5 million active sites using it, largely because of the availability for customization and support within the WordPress conglomerate.
Adaptability
With a variety of tools at your disposal, you can alter your WooCommerce themes and custom layouts to meet the needs of your online store as you scale up.
Scalability
WooCommerce is a plugin that can help websites of any size or number of visitors, and as your business grows, you can use it to add features that cater to your business needs, for example, unlimited products, unlimited transactions, and expand to other countries by offering services in other languages.
Which large companies use WooCommerce?
Many big-name businesses sites use WooCommerce to sell online, regardless of industry or size. Here are some well-known examples:
The Home Depot
Home Depot is arguably the most well-known home improvement supplier in the USA, and reported retail sales of a massive $151 billion in 2021, with 14% of sales conducted online.
UPS
Mail carrier UPS reported an annual revenue of $97 billion in 2021 and is a powerhouse of a company with more than 500,000 employees. UPS is one of the big WooCommerce sites out there, using it to boost its business, but it also helps thousands of smaller businesses ship products sold online!
Porter & York
Porter & York is a provider of meat, fish, and poultry, and uses vibrant imagery in their WooCommerce web design, offering a great online and offline experience for customers. Porter & York is a great example of a business that operates on a large scale, delivering premium meats to customers within 48 hours, earning millions in revenue every year because of its online store, despite having only 100 employees.
Joco Cups
Joco sells a variety of coffee roasters, reusable coffee cups, and drinking products, with its headquarters in Australia. WooCommerce is integral to its promotional prowess, using stunning web design to appeal to the specialty coffee shop visitor.
The top 10 big WooCommerce sites we love
There are fantastic sites that use WooCommerce to create a high-quality website design, offering functionality, and an unparalleled user experience. Here are some sites we're loving right now:
1. Phlearn
Phlearn is one of the templates you can take into account when building a visually appealing WooCommerce store.

Phlearn is an online academy providing more than 600 hours of professional Photoshop, Lightroom, and general photography courses and tutorials to over 35,000 users of any skill set. Beginner and advanced photographers use Phlearn to boost their knowledge and create insightful and igniting imagery.
Phlearn uses a WooCommerce infrastructure in combination with a subscription-based business model that allows users access to all content. We are also proud to say that Phlearn is a client of Saucal, and our work with Phlearn has helped them accomplish several company goals, including going from 0 to 10,000+ subscribers within the first 3 months, making it one of the big WooCommerce sites that should be an inspiration to every small business out there!
2. Orange
Whether you're using a page builder or developer, creating a site like Orange is within your reach.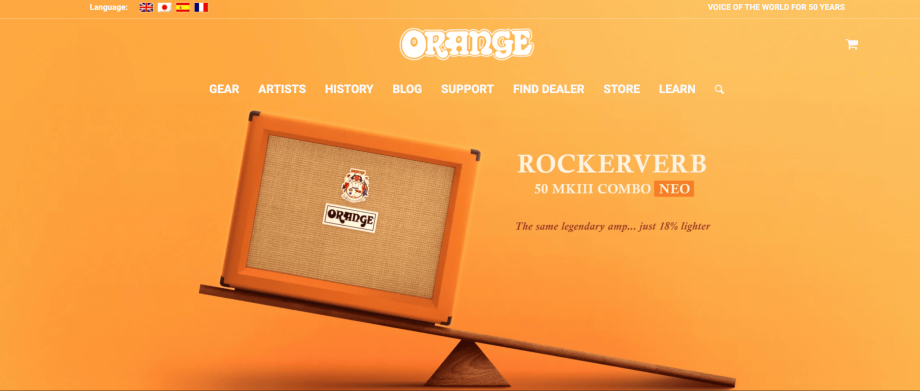 Orange Amps are UK-based providers of bass and guitar amplifiers for some of the greatest acts of the last 50 years, Fleetwood Mac, Led Zeppelin, Slipknot, and Fall Out Boy, and are also WooCommerce customers. One of the most visually arresting online stores to use WooCommerce, Currency Converter has been their plugin of choice and has sold to countless aspiring musicians as well as world-renowned ones.
3. Daelmans Stroopwafels
Stroopwafel's magical hero image is all you need to jump into their online store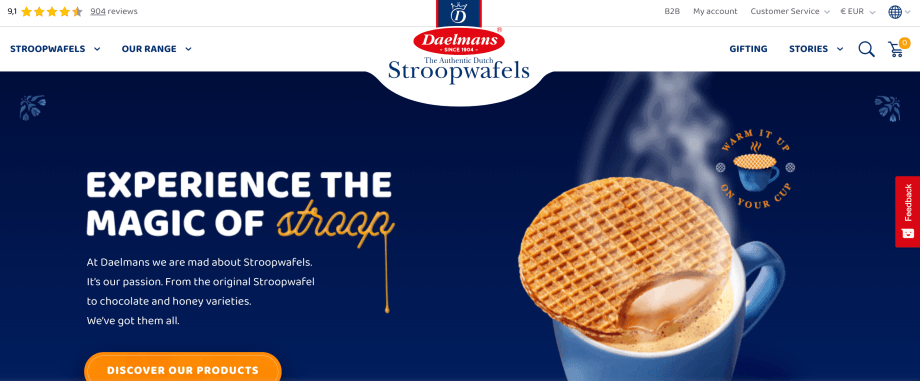 Stroopwafels, the delightful Dutch cookie served traditionally on top of steamy tea or coffee to bring out its delicious gooey innards has an online store powered by WooCommerce, telling its story with a strong but simple color scheme of blues and whites to showcase that matches its branding, with some wonderful quirky touches, including the opportunity for customers to make their own customized tin! Stroopwafels is a reminder that the best WooCommerce websites don't overdo their website design, and this brand focuses on the simple nature of the brand to tell the story.
4. Bjork
Bjork uses a WordPress theme called Storefront plus WooCommerce to create an online shopping experience that reflects their brand.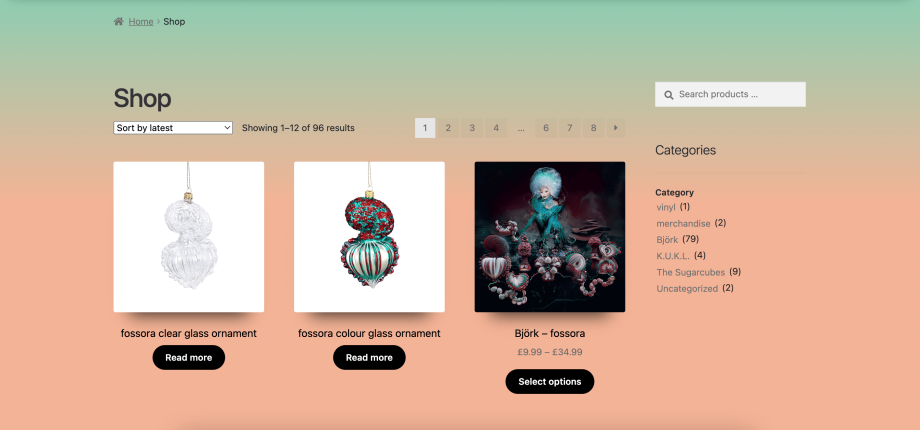 The influential musician Bjork sells most of her work via her official site using WooCommerce plugins and tools, as well as physical merchandise like T-shirts and tote bags.
Her work is finitely pored over, and as a result, it's not a surprise to see her website is as beautifully designed as her music. Bjork understands visuals that match her brand, with colors and brand-familiar visuals that startle and intrigue in equal measure, all achieved with extensions like Product Bundles, Storefront, and Jetpack.
5. Nalgene
Clear pricing and a bottle for every occasion are on Nalgene's WooCommerce store, the ideal inspiration for any consumer product website.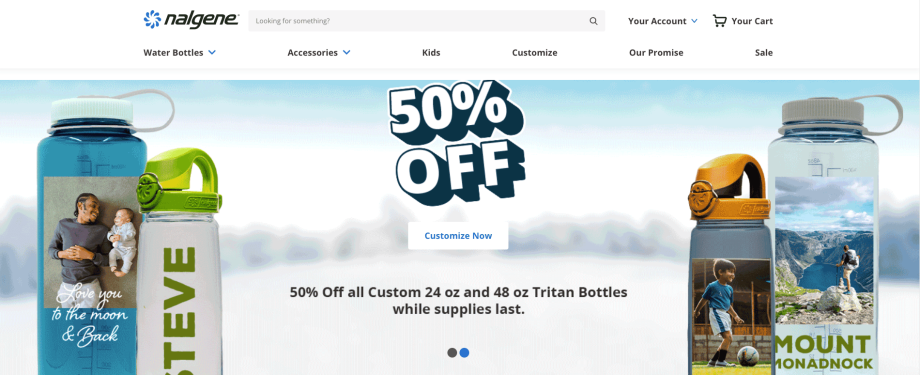 Nalgene's WooCommerce online store makes shopping for water bottles exciting, which is not an easy task by any stretch! The site provides every type of bottle, from sippy cups to flasks, all displayed prominently at the top of the home page. Nalgene's site also utilizes its customizable options, highlights accessories, and their commitment to sustainability, durability, sourcing, and water is clear to the visitor.
With over 100,000 monthly visitors, this is a great example of a website that keeps it simple. Despite its wide array of products, user experience and navigation are a great real example to other eCommerce stores out there.
6. Lens Distortions
Lens Distortions is an online store offering users cinematic music and sound effects.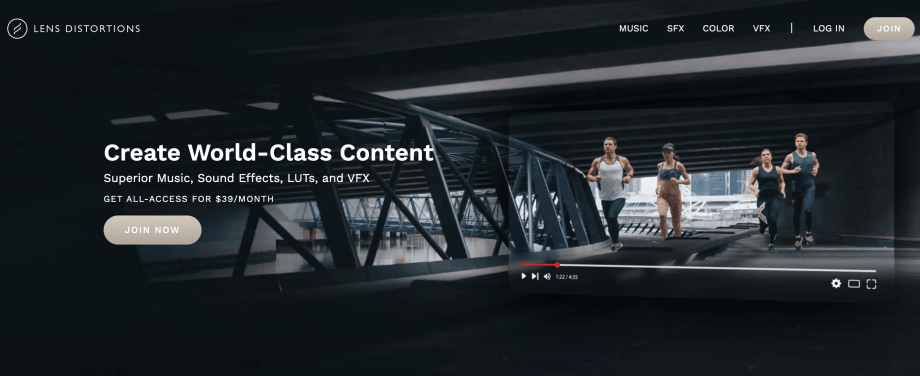 Lens Distortions gives users unprecedented access to cinematic music, sound effects, and more for big clients, including Netflix, all via its subscription business model. Using WooCommerce customizations, they provide high-quality audio that showcases its impact on the final product without slowing down the website. If you are looking towards a subscription model, this website is one of the best sources of inspiration, and we are proud to call them a Saucal client, having helped them overcome a number of obstacles, such as improving their website performance.
7. Godin Guitars
Godin guitars has a beautiful product, which is why they present it aesthetically on header images and landing pages.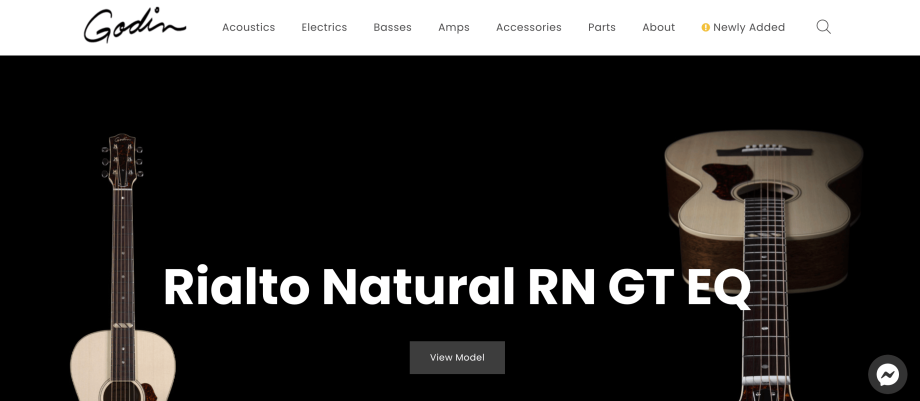 Godin is a Canadian guitar manufacturer specializing in handcrafted instruments and accessories. Their user-friendly WooCommerce website showcases their stunning guitars and sponsored events with a simple and stylish black background that places focus on the product, a great example for stores looking to upgrade their product page and use design to increase conversions.
8. Leggari
Leggari's WooCommerce store allows visitors to imagine how they'd best use the product themselves.

Leggari is a high-end DIY epoxy kit seller, helping thousands of customers upgrade their flooring and countertop affordably, which they owe to their custom-built WooCommerce website. The design is simple and straightforward, segmenting sections to fit the business' needs and their users' aesthetics while showcasing the versatility of their product to appeal to a variety of customers. Leggari is another client we helped accomplish their goals, including increasing the website's speed and streamlining the ordering process.
9. Hello Subscription
Hello subscription understand their users by creating experiences similar to the social media they use.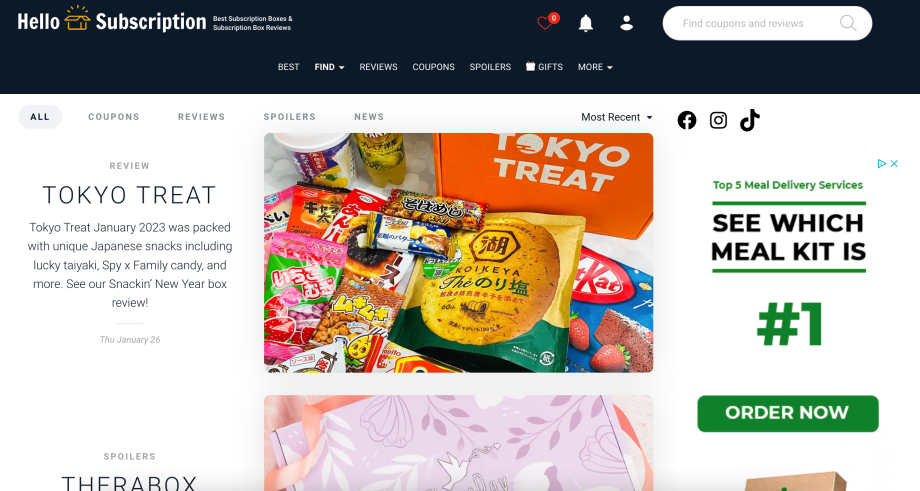 Hello Subscription is a popular subscription box website with over a million page views per month and uses WooCommerce to sell boxes to users by using visuals similar to Pinterest and Instagram, allowing the business to focus on its core demographic. Using WooCommerce, they have incorporated custom features to notify users of discounts and "hearting" products like on social media. Hello Subscription is another Saucal client, with a successful collaboration helping them accomplish several company goals, including getting a 30% to 40% return from previous customers.
10. No Pong
No Pong is an Australian WooCommerce store that sells worldwide.

No Pong is an Australian deodorant small business that sells its "B.O. busters" with WooCommerce as they grow its business across Australia and beyond. WooCommerce helped them achieve their design, using simple and effective pink and white to attract their ideal customers, as well as handle large order volumes, market via email, and track metrics. Hello Subscription is another Saucal client that we have helped to accomplish a number of goals, including a 30% growth after hundreds of thousands of dollars wasted!
Upgrade your WooCommerce site with Saucal
The best WooCommerce stores have made the most of WooCommerce tools to create their perfect site, and as these great examples show, there is plenty at your disposal to make that happen.
If you need to reimagine your brand to compete with the bigger companies on the market or even upgrade your Shopify to a beautiful WooCommerce, Saucal is an ideal partner to help you gain total understanding in upgrading your online store to one that suits your vision.
At Saucal, we understand your business needs and always keep you informed every step of the way, working with you closely throughout every project.
If you want to upgrade your eCommerce site, get in contact with us, and let's work together!