If you sell products online and want to expand to more people as part of your eCommerce business strategy, accepting multiple currencies will give you an edge. Putting into place WooCommerce multi-currency strategies can help you boost your business in many ways, including:
Reaching customers from different countries.
Simplifying the purchasing process as they can pay with local currencies rather than having to face excessive transaction fees.
Minimizing cart abandonment at the checkout.
Offering market differentiation among competitors.
There are many obstacles a customer can face when using a store that trades in foreign currency. According to a survey on cart abandonment, 13% of online shoppers will abandon a purchase if prices are in a foreign currency. If you want to sell your products in multiple currencies using your WooCommerce store, this article will show you exactly how to do it and use it to you store's advantage!
What to remember when implementing multiple currencies as part of your expansion strategy
Though businesses that use WooCommerce multiple currencies may benefit from a greater selection of customers who use their preferred currency, there are a number of details you will need to implement as you look to expand overseas, including:
Abiding by local laws and regulations
Each country will have its own specific tax rules and needs for preparing for international shipping and understanding what types of payment gateways are popular locally. For example, if you are planning to promote to people in China, you'll want to consider using WeChat as a payment option, while in some Northern European countries, you can use Klarna. In many countries, PayPal will also be a widely-accepted method, as it acts as a currency converter.
Implementing multi-language landing pages
It is essential to reach people in their native tongue, but do not make the mistake of simply using Google Translate to alter your already existing copy templates, and while tools like DeepL and Microsoft Translator work effectively, they don't beat the real support a native translator provides! Try using tools like Weglot to get automated translation with real translation support.
Taking payment from billing addresses outside of your country
Make sure your WooCommerce settings because even if the shipping address is within the countries you offer shipping to, the billing address needs to be open to other countries, too, as buyers' credit cards may be from abroad.
As you expand and implement multiple currencies, you'll allow visitors to understand the cost much better. But this is also beneficial for your business, so before you start changing display prices and implementing multilingual options, let's look at the bigger picture of multiple currency stores and its benefits.
How accepting multiple currencies on WooCommerce can boost your business
Selling on your WordPress site using WooCommerce takes your sales online beyond your immediate region. But to really bring your business to customers worldwide, accepting multiple currencies might be the missing piece to real expansion. Additionally, it brings the following benefits:
It expands awareness of your business internationally, which can increase sales and revenue.
It reduces the risk of losing customers who cannot pay in USD because they live in another country.
It makes it easier for customers who cannot convert between different currencies as they can just purchase without any hassle.
If you can offer specific currencies or payment methods, your online store will immediately expand its market base and become more competitive.
How do you enable multiple currencies on your WooCommerce store?
While WooCommerce doesn't support multiple currencies, there are many WordPress plugins available that allow you to do this. Currency switcher plugins are popular as you have more control over how currency options are displayed on your website and offered to your customers. If you have customers who aren't familiar with converting between different currencies, a plugin will be a simple and straightforward method that everyone can benefit from.
The best multi-currency plugins for WooCommerce
WooCommerce Payments Multi Commerce Option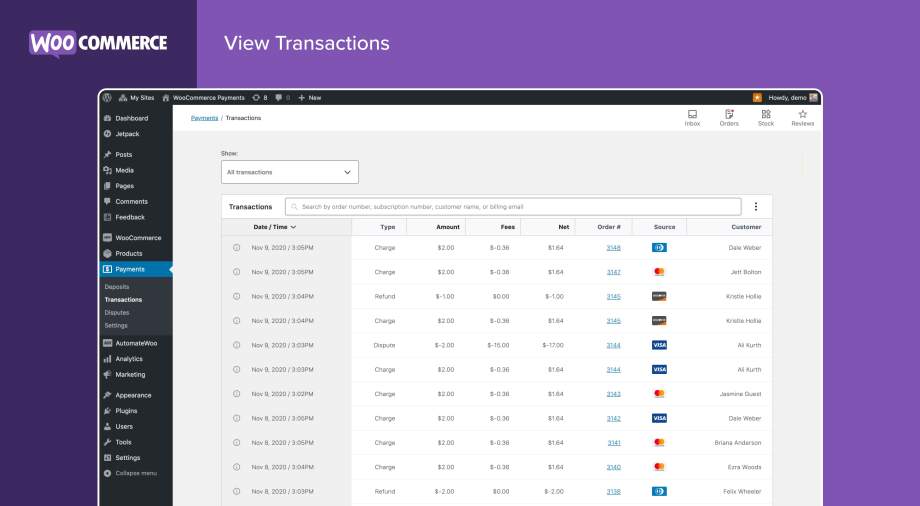 WooCommerce Payments is the official Woo payment gateway option, based on Stripe, and already includes multi-currency. There are also some other great features, including:
Full integration with the WordPress backend so you can manage everything from a single point.
Full support UPI/QR Code Payment.
Customized "Redirect to payment page" message.
A custom "Thank you" page.
Currency Switcher for WooCommerce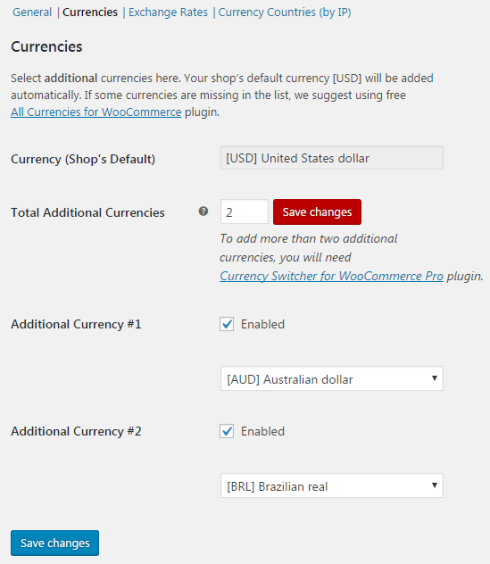 The Currency Switcher widget provides selected currencies to your customers, but its key selling point is how it automatically switches currencies and exchange rates, showing your customers their preferred currency by automatically detecting their Geo Location IP and country and displaying all the prices in the home currency of your customer. In addition, Currency Switcher:
Converts every other aspect of the customer journey, including shipping, taxes, discounts, and much more.
Creates zone-based pricing, which can optimize shipping methods that lower transit times and delivery rates.
Allows the customer to initiate currency change after the checkout, allowing for human error.
Automatically updates exchange rates via the Open Exchange Rates API.
Premmerce Multi-Currency
The Premmerce Multi-Currency WooCommerce plugin prides itself on offering a number of competitive features:
Automated currency changes and geolocation support to detect local currency and change pricing.
Add custom currencies by displaying the currency required for sale.
Create two identical currencies, both with different exchange rates.
Edit pricing from the front end.
Displaying the currency switch widget.
Unlimited currencies.
Shortcode.
CURCY- Multi-Currency WooCommerce plugin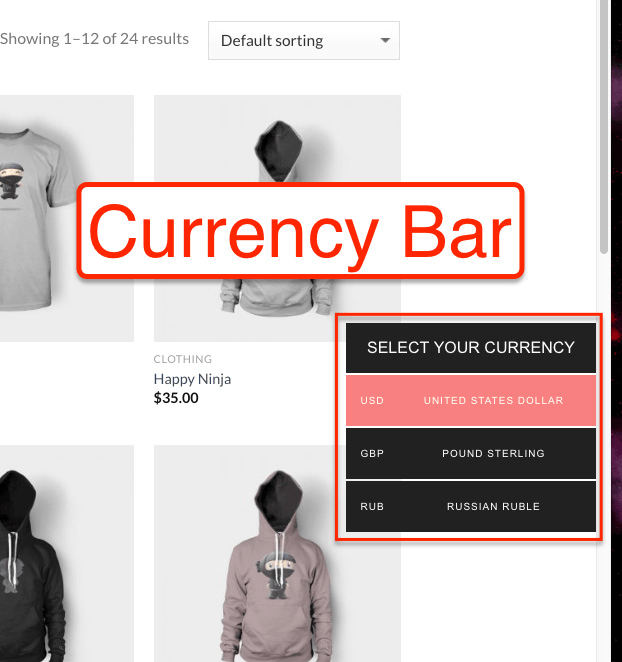 CURCY provides a number of competitive approaches to differentiate yourself and boasts some of the great features of the free version, including:
Automatically detects a user's location and displays currencies used in the customer's location.
The products are displayed at the approximate price of the customer's native currency.
Can set exchange rates up manually or set prices in different currencies.
Can hide currencies you don't want to appear.
Set custom currency symbols.
The paid version offers a number of additional tools, including:
Unlimited currencies.
Multiple currency displays.
Select payment methods per currency.
Multilingual support.
Bulk fixed price.
Select SESSION to use the session instead of cookies to save the currency selected by the customer.
Can force a specific currency to the checkout, for example, if the exchange rates on a specific currency are currently too much.
Price Based on Country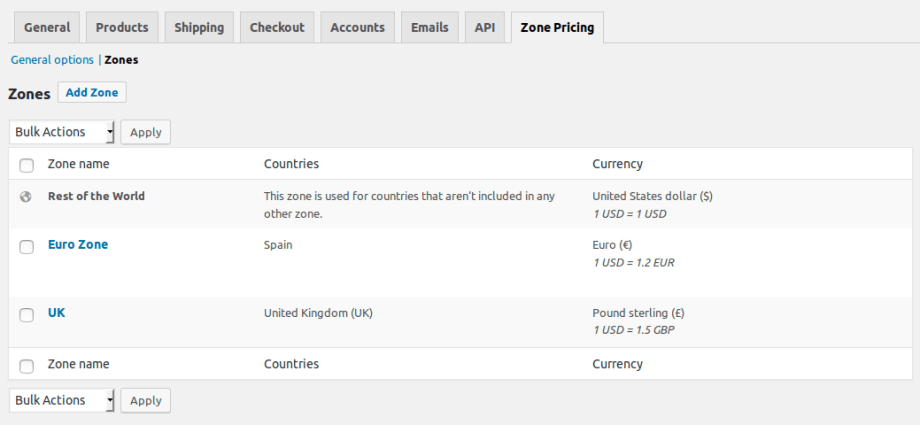 The Price Based on Country plugin offers a number of tools and widget options, including the following:
Geolocation tools, multi-currency, and multilingual tools.
Create an unlimited number of pricing zones.
Create currency symbols for your custom country.
Auto update exchange rates to regulate peaks and troughs in the market.
Multi-Currency for WooCommerce
The Multi-Currency plugin makes it easier to switch currencies and re-calculate rates instantly with some of the following features:
Select which currencies you want to display on your online store.
Customers can choose the currency with a sidebar widget.
Unlimited currencies.
Change currency automatically or manually.
Can round up prices after conversion and add conversion commission.
Customizing multi-currency solutions with WooCommerce experts

Many eCommerce businesses use plugins as a way to help manage many aspects of their online stores. While navigating exchange rates, multiple currencies, and every finite detail of running an online store can be achieved with a plugin, you may not want to limit yourself to the possibilities a plugin provides. If that's the case, you can hire Saucal as your WooCommerce experts to create your own solution. Whether it's creating a multi-currency solution or setting up a multi-site to run a different store for each different country which can help for a number of reasons:
Allows use of different ERP integrations, such as CRM (Customer Relationship Management) tools.
Facilitates different payment processors beyond traditional ones like Stripe.
Compatible with different collaborators, providing a greater selection of resources to personalize each aspect of your product page, checkout page, and web copy.
If you want to expand your efforts, working with a managed WooCommerce team on a monthly basis or hiring them to implement a multi-currency solution can help improve your customer reach. Our client, No Pong, has multiple locations configured per country, widening its reach, utilizing customers' preferred currency, and boosting business.
I'm a big fan of localized shopping and believe that letting shoppers buy in their own currency or a familiar currency gives stores a competitive edge.

Localizing your store, and starting with multi-currency, it's the first step in this process. In addition, you can go beyond the basic expansion practices by providing shipping options customers are familiar with and making every expense known, such as duties.

At the end of the day, this is all about providing the best customer experience. Plus, with today's payment processors, this has never been easier.

Michell Callahan, Saucal Co-Founder
Is it time to start selling in multiple currencies on your WooCommerce store?
Using WooCommerce multiple currencies for your business is an essential step that will increase your customer reach, and with several options to implement it on their store, such as plugins and bespoke solutions offered by Saucal, it has never been easier to start.
Put simply, if you are interested in the benefits of multi-currency WooCommerce, the best way to do this is to use a WooCommerce multiple-currency plugin of your choice or reach out to us to get it set up on your terms
Saucal is ready to help you, get in touch to get started.