Looking to integrate a WooCommerce Point of Sale (POS) system into your store? You may be trying to streamline business operations or enhance your customer experience online and in your brick-and-mortar outlet. Either way, you're on the right track!
A POS system facilitates a seamless shopping experience for your customers while providing the necessary tools to manage your inventory, track sales, and generate insightful reports – all in real-time.
This comprehensive guide will cover everything you need to know about POS systems, explore their benefits, and pick out the best POS plugins for your WooCommerce store. So, let's jump right in!
What is a WooCommerce POS system?
A POS system is a critical tool for any retail business, acting as the central hub for sales transactions, inventory management, customer data, and more. Essentially, it's the digital heartbeat of your store, powering the sales process and driving business efficiency.
When integrated with an eCommerce platform like WooCommerce, a POS system links your online store and physical storefront. This integration allows for a seamless omnichannel shopping experience, offering customers the convenience of shopping how, when, and where they want while providing you with centralized control over your business operations.
Here's a breakdown of how a WooCommerce POS system can be used to transform your business:
Sales transactions
At its core, a POS system is designed to process customer payments swiftly and accurately. It calculates the total cost of items purchased, applies discounts, manages tax calculations, and generates receipts. These printed or digital receipts serve as a record of the transaction for both the customer and the business.
Inventory management
With a POS system, you can keep track of your inventory in real-time. This feature helps you identify items running low that need to be reordered, preventing stockouts and overstocking. The end result is improved customer satisfaction and reduced storage costs.
Customer data management
Many POS systems come with integrated customer relationship management (CRM) features. These allow businesses to collect and manage customer data like names, contact details, and purchase histories. With this information at your fingertips, you can create personalized marketing campaigns, offer targeted discounts, and elevate customer service.
Employee management
A POS system can also simplify workforce management. For example, you can manage employee schedules, track working hours, and calculate payroll all within the system, saving you valuable time and resources.
Reporting and analytics
A POS system provides valuable insights into your business operations. You can generate reports on sales, inventory, customer behavior, and employee performance. These data-driven insights enable you to make informed decisions, helping to optimize your operations and drive growth.
Integration with other business systems
Many POS systems can be integrated with other business software, like accounting, eCommerce, and marketing platforms. This ability to streamline operations and centralize data is a game-changer for businesses. For example, BizPrint can be directly integrated into your POS system to automatically print or generate receipts at the point of sale or for online orders.
Top WooCommerce POS plugins for WordPress
Ready to discover the best POS plugins for your WooCommerce store? Let's dive into an overview of each, exploring their key features, potential integration challenges, and customer service quality.
1. Jovvie by BizSwoop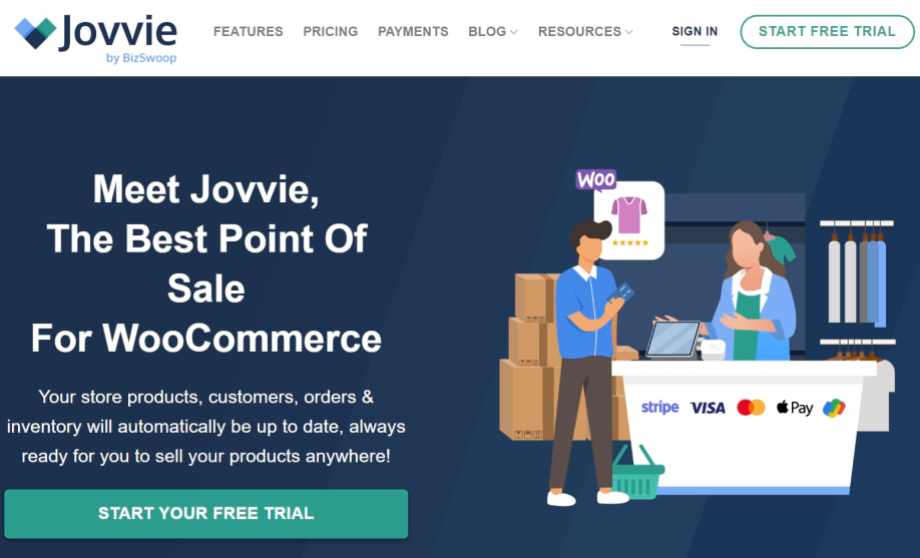 Meet Jovvie by BizSwoop, a user-friendly POS system explicitly designed for WooCommerce stores. Jovvie's customizable interface allows you to mold the system to your business's unique needs, providing a seamless, personalized experience.
Key features:
Live inventory management: With Jovvie's real-time synchronization, you never have to worry about inventory mismatches between your in-person and online stores.
Customer management system: Jovvie allows you to access customer accounts in-store, providing tailored service based on their purchase history and preferences.
Hardware compatibility: Complete in-person transactions from any checkout hardware. Whether you're using a phone, tablet, or computer, Jovvie ensures a smooth checkout experience.
Stripe Terminal integration: As an official partner of Stripe, Jovvie integrates seamlessly with Stripe Terminal, making payment processing a breeze.
If you're on the hunt for a comprehensive POS system with outstanding support, Jovvie is an excellent choice. It's designed to provide a holistic solution to your sales and customer management needs, focusing on user-friendly operation.
Jovvie also offers a 30-day free trial – meaning you can take the solution for a test drive in your own time! Afterward, you can continue using Jovvie for the budget-friendly price of $19 per month.
2. Lightspeed POS Integration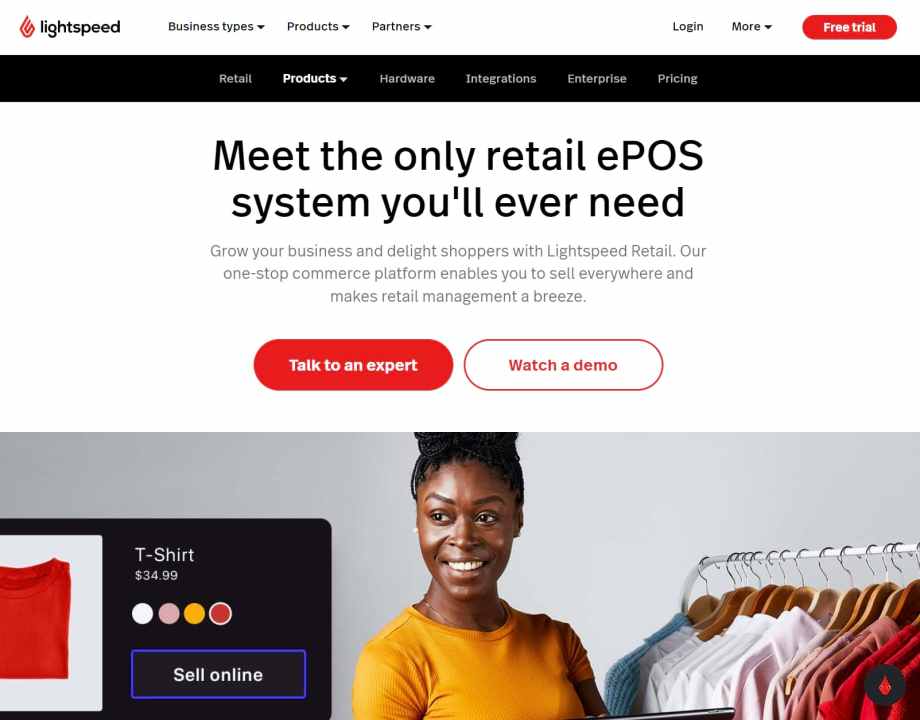 Lightspeed POS Integration is a versatile, cloud-based point-of-sale system that caters to various businesses – including retail, restaurant, and eCommerce. This robust platform also offers a multitude of features to streamline sales, inventory, and customer data management.
Key features:
Integration with third-party applications and platforms.
Set reorder points for your products.
Low stock alerts.
Inventory counting features.
Built-in gift cards and discounts.
Comprehensive customer profiles.
Because Lightspeed POS Integration can connect and sync WooCommerce to Lightspeed Retail (R-Series and X-series), it's a particularly good choice for store owners already utilizing these systems.
You can try Lightspeed POS Integration from $39 a month. However, you'll need to upgrade to access advanced features like accounting, eCommerce, omnichannel loyalty, and advanced reporting.
3. Oliver POS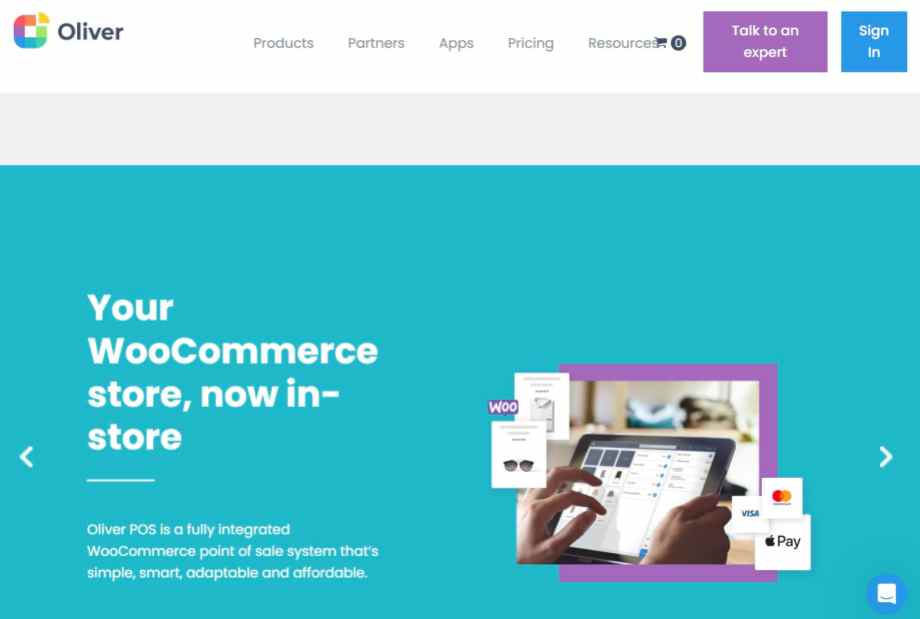 Oliver POS is a powerful point-of-sale software developed with WooCommerce stores in mind. It allows businesses to manage their online and offline sales through a single platform, providing a unified solution to handle transactions, inventory, and customer data.
Key features:
Compatibility with numerous WordPress and WooCommerce extensions and plugins.
Dedicated POS hardware (also works with iPad, Mac, or PC.)
Process debit, credit, cash, gift cards, or store credit payments.
In-depth reports.
A free version of Oliver POS is available to anyone on a tight budget. Alternatively, you can check out the basic plan at $19.99 per month or even opt for the more expensive, feature-rich pro and enterprise plans.
4. WooCommerce POS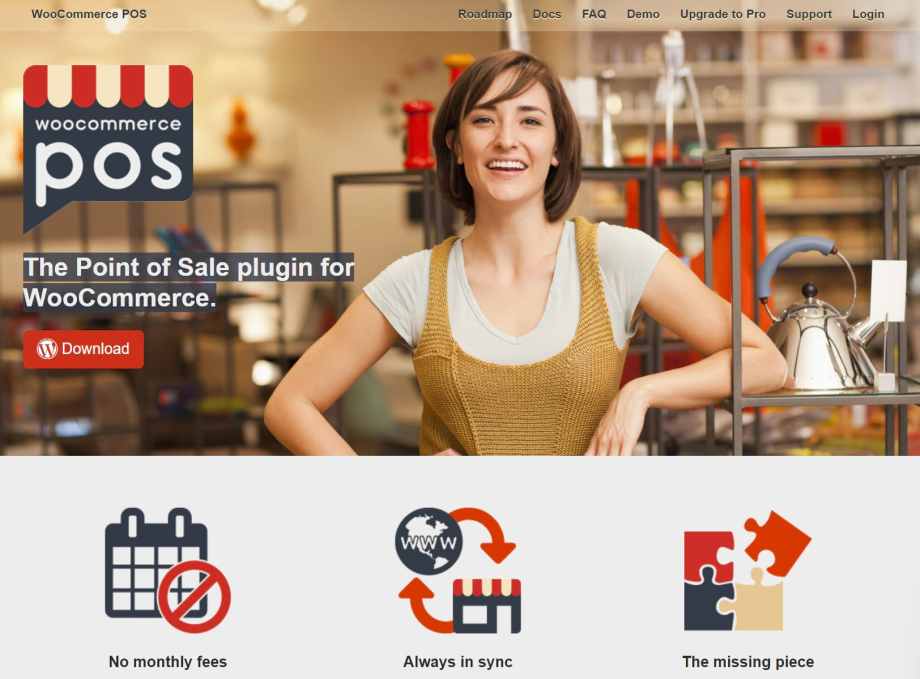 The WooCommerce POS plugin integrates seamlessly with WooCommerce to provide a unified POS system, enabling brick-and-mortar store owners to manage their sales transactions, inventory, and customer data directly from the WordPress dashboard. In addition, WooCommerce POS focuses on streamlining the sales process to boost efficiency across both online and offline sales channels.
Key features:
Efficient filtering options.
Product editing directly from the POS interface.
Differentiation between online and POS products.
Barcode scanning.
WooCommerce POS is a practical, budget-friendly solution for store owners seeking to improve their sales processes. The free version of WooCommerce POS is fantastic for those just starting out, although it lacks the advanced features offered by the plugin's pro version, available at $129 per year.
5. WePOS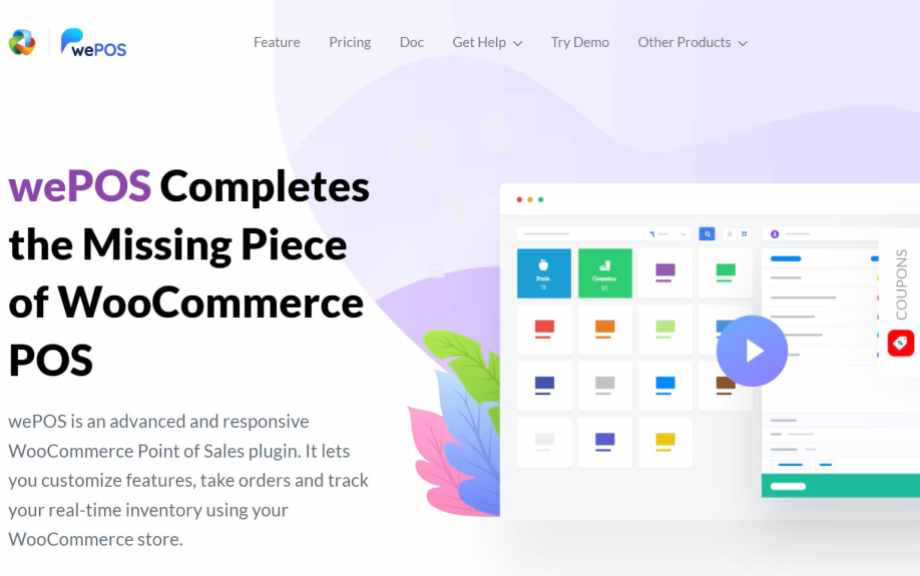 WePOS is a dynamic POS system that allows store owners to manage online and offline sales from a centralized location. Because the plugin caters to the needs of both single and multi-store setups, it's a versatile choice for a wide range of businesses.
Key features:
Real-time inventory updates.
Outlet and counter management.
Live cart management.
Barcode scanning.
Apply discounts directly.
Depending on your budget and business needs, you'll be able to take your pick of WePOS plans, with paid-for options starting from $199 a year. WePOS also offers a free plan – which is ideal if you're working with a limited budget.
6. Square Point of Sale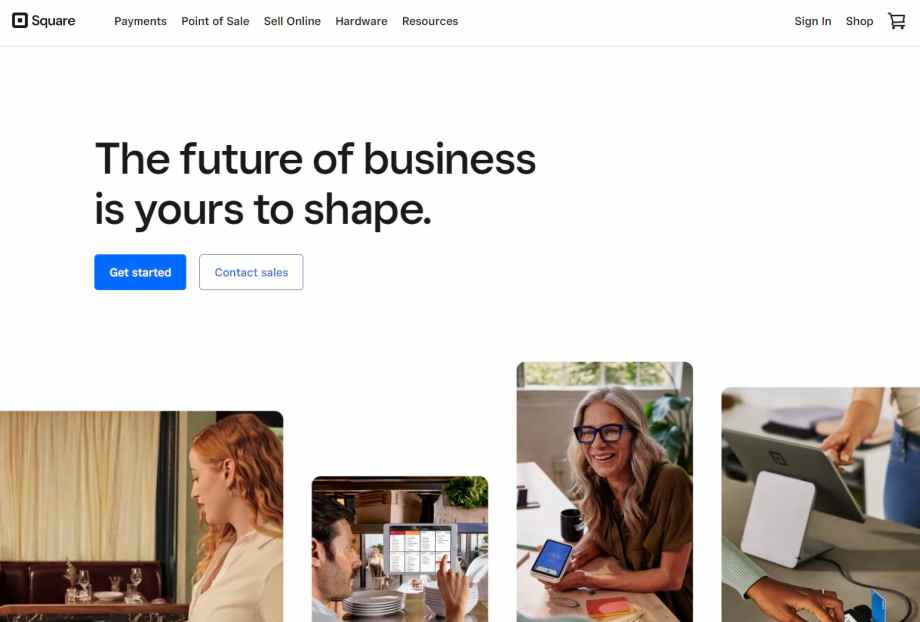 Square for WooCommerce is a user-friendly, cloud-based POS system that enhances sales. What's more, the solution is particularly well-suited to small businesses thanks to its robust functionalities.
Key features:
Real-time inventory management.
Open orders and tipping capabilities.
Customer loyalty programs, including discounts, rewards, and promotions.
Employee management.
Square speeds up the checkout process for customers who have used a credit card on a previous Square purchase. Because the system ties the email to the credit card number, sending a receipt is much easier. Square also sells premium hardware, like iPad stands and card readers, offering a complete POS solution.
While the plugin is free, there are a number of hidden costs that are worth keeping in mind. These include a monthly fee for each store in which the POS is set up, loyalty program costs, and more.
7. WooCommerce In-Person Payments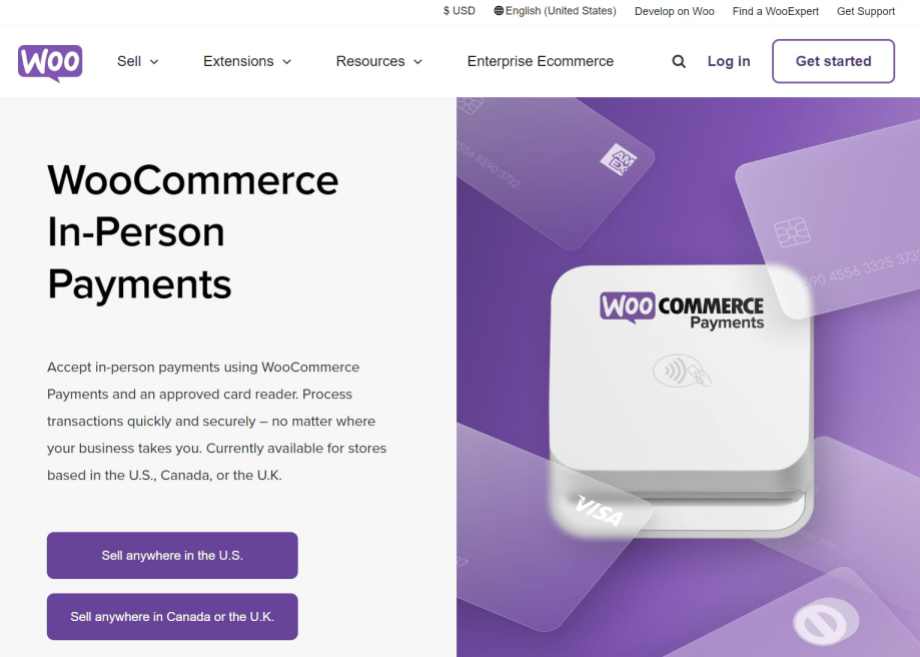 WooCommerce In-Person Payments is the proprietary in-person payment extension from WooCommerce's own payment gateway solution. Developed on the robust framework of Stripe, this solution empowers WooCommerce store owners to accept a variety of payments, including swipe, contactless, and chip-and-pin transactions, as well as digital wallets.
Key features:
WooCommerce In-Person Payments offers a straightforward solution for in-person sales – but it currently lacks some of the features found in the more comprehensive POS solutions we've shortlisted in this article, such as customer management and barcode scanner support. That said, its handy Tap to Pay feature, part of the Jetpack/iOS Woo App, makes payments more straightforward and secure.
The plugin is free; however, you'll need to invest in a compatible card reader. The M2 Card Reader, for use in the US, costs $79.99, while the WisePad 3, for use in the UK and Canada, costs $84.99 – currently, WooCommerce In-Person Payments is unavailable outside of these countries.
POS add-ons
WooCommerce POS plugins can help store owners manage their sales and inventory – but you might find that certain aspects of your business require additional functionality. A POS add-on can help, tailoring your WooCommerce POS system to your specific needs.
Noteworthy POS add-ons include:
Digital receipt services.
CRM integration.
Loyalty program integration.
Advanced inventory management (like multi-location tracking, low-stock alerts, and automated reordering).
Digital WooCommerce receipt service
Businesses are continually searching for ways to streamline operations and improve the customer experience – and adopting a digital receipt service into your WooCommerce POS system is a great way to do so.
Here are just a few of the benefits of a digital receipt service:
Reduced paper waste: Eliminate the need for paper receipts with digital alternatives.
Improved customer convenience: Customers no longer need to worry about losing their receipts; they can access them online whenever required.
Easy access to purchase history: Digital receipts allow businesses and customers to quickly review past purchases, simplifying refunds, exchanges, and warranty claims.
Enhanced customer data collection: Collect valuable data, like email addresses and purchase histories, which can be used for personalized marketing.
Environmentally friendly: Take a positive step towards a more sustainable business model with digital receipts.
Cost savings: Receipts reduce costs associated with buying paper and maintaining printing equipment.
Simplified record-keeping: Digital receipts can be easily stored and organized, making bookkeeping more straightforward for businesses and customers.
Streamlined return process: Simplify the return and exchange process by making purchase information easily accessible.
Targeted marketing opportunities: Include promotional messages, special offers, or personalized recommendations, providing an additional channel for customer engagement.
Increased customer engagement: Add links to your website, social media accounts, or customer surveys, and encourage interaction with your brand.
BizPrint's PDF print functionality allows store owners to create digital receipts on demand – and eliminates the need to install additional PDF generator plugins. And, if you'd still like to print physical WooCommerce order receipts, BizPrint's automatic printing feature has you covered!
Flow Notify is another plugin that complements your WooCommerce POS thanks to its custom order statuses, notifications, and ease of use. With Flow Notify, you can send automated order and sales confirmations to customers that trigger when a new order is placed, saving time and facilitating quick, clear communication with your customers.
FAQs
How does a POS work online vs. physical stores?
Whether you're running a brick-and-mortar store or an online eCommerce platform, a POS system can be instrumental in managing your business operations – but its use differs based on the store type.
In physical stores, a POS system is essentially a blend of hardware and software used to process sales transactions at the point of purchase.
Online stores operate differently – transactions are processed via an eCommerce platform (like WooCommerce) integrated with a payment gateway.
Both online and physical store POS systems collect and manage customer data. In physical stores, customers might need to provide this information directly or through loyalty program enrollment. In online stores, this data is typically captured during the account creation or checkout process.
Stores in the real and digital worlds also need to ensure their inventory is consistently up-to-date – and a POS system can help. With a POS system like Jovvie, stores can synchronize data between multiple channels to ensure that their inventory updates accordingly, regardless of where the sale takes place. So, if an item is sold in the physical store, the stock count will instantly be updated in the online store, and vice versa. Inventory synchronization is critical, and can prevent overselling while ensuring stock counts are consistently accurate.
Lastly, both types of POS systems generate reports and analytics based on sales, inventory, and customer data. Store owners using a POS to bridge their digital storefronts and in-person locations will be able to delve into all sorts of insights – like online consumer behavior, foot traffic and transaction data, and employee performance.
Do you need a POS system for your store?
A POS system can greatly benefit any store that aims to manage stock more efficiently, provide superior customer service, and streamline operations.
However, the following factors can influence which POS system will suit your business best:
The size of your business.
The volume of your sales.
The type of data you'd like to collect.
Number of business locations.
Industry-specific requirements.
The need for efficient inventory and customer data management.
What are the benefits of using a POS system for your WooCommerce store?
Integrating a POS system with your WooCommerce store can unlock several advantages:
Improved inventory management: Real-time inventory updates prevent overselling and help maintain optimal stock levels.
Streamlined sales processes: A POS system can speed up checkout times, handle returns more efficiently, and simplify sales tracking.
Better customer data management: POS systems can collect valuable customer data to inform marketing strategies and enhance personalized service.
Enhanced customer experience: By tying online and in-person data to the same account, you can provide an omnichannel shopping experience.
Integrating a POS system with WooCommerce can save valuable time and resources, allowing you to focus more on enhancing your product offerings, refining your marketing strategies, and, ultimately, growing your business.
Save time and improve customer experience with Jovvie
Choose the right POS system for your WooCommerce store and you'll save time and cut out hassle. You'll also be able to streamline sales processes and inventory management, collect valuable customer data, and create a seamless shopping experience for your customers.
We'd recommend giving Jovvie a try! Jovvie's powerful features, user-friendly interface, and excellent customer support make it a fantastic choice for businesses looking to take their store to the next level.
Remember, you can further enhance your POS system's functionality with handy add-ons For example, plugins like BizPrint can automate your receipt printing, while Flow Notify can keep you up-to-date with customized order notifications. They're like the cherries on top of your POS sundae, adding that extra touch of convenience and efficiency.
A POS system helps you work smarter, not harder, and puts your customer experience front and center. So, check out Jovvie today to take your business to new heights. After all, it's more than just a POS system – it's your partner in growth!
If you need help integrating Jovvie with your WooCommerce store, connect with us today!