The eCommerce landscape has been revolutionized by the advent of multivendor marketplaces. These digital hubs, where numerous vendors come together to sell their goods under one virtual roof, have surged in popularity in recent years.
Think of the titans in the industry, Amazon, eBay, Etsy, whose success stories are a result of the myriad advantages that multivendor marketplaces offer. From providing customers with a wide array of products and competitive pricing to giving vendors a platform with established traffic, these marketplaces create a win-win-win scenario.
If you're a business owner already on WooCommerce or exploring eCommerce avenues, you might be asking, "How can I tap into this lucrative trend?". The answer lies in leveraging the power of WooCommerce plugins to create and manage your own multivendor marketplace.
This article is your comprehensive guide to unlocking the full potential of WooCommerce's multivendor capabilities. We'll walk you through the key steps in setting up a multivendor marketplace, the considerations you need to keep in mind once it's up and running, and the best plugins available that will make this entire process seamless.
As a bonus, we'll also introduce you to Saucal's managed WooCommerce solutions – a superior choice for businesses seeking a hassle-free and optimal eCommerce experience.
Let's dive in!
Benefits of multivendor marketplaces
Multivendor marketplaces offer numerous advantages to all the various stakeholders involved, creating a dynamic, mutually beneficial ecosystem that drives growth for all parties.
Increased product variety and offerings for customers
A multivendor marketplace hosts a diverse array of vendors, each offering unique products. This ensures that customers have access to an extensive range of options, catering to various preferences and needs all under one digital roof. This wide variety not only enhances the shopping experience but also increases the likelihood of customers finding exactly what they need.
Access to a wider audience and potential customer base
By hosting a variety of retailers, a multivendor marketplace can attract a broader range of customers. Each vendor brings their unique customer base, expanding the overall reach and visibility of the marketplace. This increased exposure can lead to higher traffic, more sales, and greater overall success.
Improved search engine rankings and visibility
The rich diversity of products and content in a multivendor marketplace provides a natural boost to search engine rankings. With a broader range of keywords being relevant to your site, search engines are more likely to recommend your marketplace to potential customers, thus increasing your visibility online.
Additional revenue streams through vendor commissions
For marketplace owners, hosting multiple vendors opens up a new revenue stream via vendor commissions. Each sale a vendor makes on your platform can earn you a percentage, allowing you to monetize the platform itself, beyond just your own product sales.
Shared responsibility for managing inventory, shipping, and customer support
Operating a multivendor marketplace allows the owner to share the responsibility of managing inventory, shipping, and customer support with individual vendors. This shared workload can reduce the burden on the marketplace owner, freeing up time and resources to focus on other aspects of the business.
Think of how a WooCommerce multistore might work, except that the responsibility of managing all stores is not solely on your shoulders.
Foster healthy competition among vendors
When multiple vendors are selling similar products on the same platform, it encourages healthy competition. This race for customer satisfaction often results in better pricing, improved product quality, and enhanced customer service, benefiting the end consumers.
However, to unlock these advantages fully, choosing the right WooCommerce multivendor solution is of paramount importance. The right plugin will ensure a smooth and efficient marketplace experience for both vendors and customers, enhancing user satisfaction and, ultimately, your marketplace's success.
This is where experts in WooCommerce development like Saucal can make a dramatic difference. With a thorough understanding of the technicalities involved in setting up a multivendor marketplace, Saucal can handle any integration or technical issues that might arise.
This leaves you, the marketplace owner, free to focus on what you do best – running the business and driving growth.
Setting up your multivendor marketplace
Here, we look at a high-level overview of the processes involved, giving you a solid understanding and a firm foundation to build upon.
While this isn't a step-by-step guide using a particular plugin, it will highlight the crucial stages you'll need to navigate, irrespective of the plugin you choose, enabling you to have a clear picture of the journey ahead.
Adding vendors and managing commissions
Here's a short process to establish a thriving multivendor marketplace,
Step 1: Onboard vendors to your platform
There are typically two routes to accomplish this:
Manually add new vendors to your marketplace.
Provide an option for vendors to register themselves through a customized registration form on your site.
While the manual approach gives you total control over the vendor selection process, allowing vendors to self-register can expedite the process and enhance the scalability of your marketplace.
Step 2: Set up the commission structure
This is how you, as a marketplace owner, earn revenue from the sales made by vendors on your platform. The commission can be set up in several ways, such as a fixed rate per sale, a percentage of the sales amount, or even a combination of both.
Setting up a fair and competitive commission structure is of paramount importance. It should be attractive enough to entice high-quality vendors to join your marketplace, but also sustainable so your marketplace can continue to grow and operate profitably.
Step 3: Process the vendor commissions
Some marketplace owners prefer automatic payouts, where commissions are automatically calculated and transferred to vendors at regular intervals while others might opt for manual payouts, which gives them more control over the process.
In addition, you can leverage third-party payment gateways for this purpose, providing a seamless, secure, and user-friendly experience for your vendors.
Choosing store layouts and customizing vendors' store pages
A vendor's store page serves as their unique digital storefront within your multivendor marketplace. It's not just a place where their products are listed; it's a space that reflects their brand and personality. It's vital to ensure these pages are visually appealing, user-friendly, and customizable to each vendor's specific needs.
Having a customizable layout is key to achieving this. A vendor should have the ability to personalize their store page to match their branding. This can include simple changes like adjusting the color scheme, adding a logo, and including a banner image. More advanced modifications can involve tweaking the product display style, modifying product filters, and altering page structures.
The degree of customization available largely depends on the multivendor plugin you choose. Some plugins provide pre-built templates or layouts for vendor store pages, offering an easy and quick solution for vendors to set up their shop. However, these may be limited in terms of customization options. Other plugins offer more flexibility, allowing advanced customization through code modifications or additional extensions.
Regardless of the customization level, it's crucial to ensure that the chosen design and layout are responsive. Having a store page that renders well on all devices – desktop, tablet, and mobile – is non-negotiable to ensure a seamless shopping experience for customers.
Monitoring and managing your multivendor marketplace
Operating a successful multivendor marketplace is not a 'set it and forget it' endeavor. It requires active monitoring and hands-on management to ensure the smooth operation of the marketplace, maintain healthy vendor relationships, and optimize the customer shopping experience.
Effective management of your marketplace involves proactive identification and resolution of potential challenges. This could encompass anything from disputes between vendors and customers, technical glitches, and adjustments in commission structures, to understanding changing market trends. Timely and decisive actions in these areas can prevent minor issues from escalating into major obstacles.
To streamline this process, the following best practices can come in handy:
Setting clear expectations with your vendors right from the start can eliminate many potential conflicts. This could include guidelines around product quality, shipping times, customer service, and commission rates.
Providing regular feedback to your vendors helps them improve their product offerings and customer service, enhancing the overall marketplace experience.
Promptly addressing any issues that arise and maintaining open lines of communication can further reinforce a positive working relationship with your vendors.
Monitoring commissions, vendors, and earnings
Maintaining a clear overview of your financial landscape is vital to the ongoing success and sustainability of your multivendor marketplace. This includes keeping track of commissions, monitoring vendor performance, and overseeing the overall earnings of your platform. These elements directly impact the financial health of your marketplace and play a crucial role in strategic decision-making.
Many multivendor plugins available for WooCommerce offer a range of tools and features designed to assist with this monitoring process, such as:
Comprehensive reporting and analytics tools can provide insights into the sales performance of individual vendors, most popular products, revenue generated, and commissions earned. These detailed reports can help you identify trends, spot opportunities, and make informed decisions to optimize your operations.
Vendor analytics dashboards provide vendors with a personalized view of their store's performance, including their sales, earnings, and pending commissions. This transparency can enhance vendor satisfaction and encourage them to improve their offerings, further boosting your marketplace's success.
Commission tracking tools are essential for keeping tabs on what you owe to each vendor, ensuring accurate and timely payouts. This not only ensures financial transparency but also builds trust among your vendors.
Managing all these elements may seem daunting, but partnering with a dedicated WooCommerce partner, such as Saucal, can ease this process. Saucal can streamline your operations, facilitate transparent communication, integrate third-party services, and more, effectively addressing any challenges you might face in monitoring commissions, vendor performance, and earnings.
Plugin integrations
In order to truly maximize the potential of your multivendor marketplace, seamless integration with other plugins and services on your site is pivotal. The capability to dovetail with various external tools can significantly enhance your marketplace's functionality, streamline operations, and uplift the user experience for both vendors and customers.
For instance:
Integration with a variety of secure and popular payment methods not only makes transactions easier for your customers but also boosts trust in your marketplace.
Integrating with different shipping providers can enable more flexible delivery options and potentially attract a wider range of vendors and customers.
Marketing tools, such as email marketing plugins or SEO tools, can help vendors reach a larger audience and drive more traffic to their store pages.
Customer support systems can ensure the timely resolution of queries and complaints, thus enhancing the overall customer experience.
However, while integrating various plugins can add immense value to your marketplace, it's equally essential to ensure compatibility among them. Not all plugins play well together, and potential conflicts can lead to performance issues or even functionality breakdowns.
This is where the expertise of Saucal can be invaluable. Saucal's team of professionals can handle the integration of your multivendor plugin with other necessary plugins, ensuring everything works smoothly and cohesively.
Choosing the right WooCommerce multivendor plugin
In order to choose the best plugin for your needs, consider the following key factors:
Vendor registration and management: A user-friendly vendor registration process is crucial for attracting vendors to your marketplace. Look for plugins that offer customizable registration forms and comprehensive dashboards that allow vendors to easily manage their products, orders, and commissions.
Commission management: Look for plugins that support different types of commission structures – fixed, percentage-based, or a combination – and offer automatic or manual payout options. Robust tracking and reporting features for commissions are also important.
Store page customization: Choose a plugin that offers customizable and responsive store pages, ranging from pre-built templates for ease of use to advanced customization options for more unique demands.
Product management: Depending on the variety of vendors and products your marketplace will host, you'll want a plugin that supports a broad spectrum of product types – physical, digital, variable, and so on. Additionally, features for inventory management and product approval processes can greatly enhance your marketplace's operations.
Order management: Order tracking and shipping management features enable a seamless shopping experience for your customers, leading to reduced returns and increased customer satisfaction.
Reporting and analytics: In-depth reports on sales, commissions, and vendor performance help you make data-driven decisions to optimize your marketplace.
Integration with other plugins and services: Compatibility with popular payment gateways, shipping providers, marketing tools, and customer support systems can considerably enhance the functionality of your marketplace.
Security and support: Having a plugin that's regularly updated, provides strong security measures, and offers reliable customer support can make the difference between a good and a great multivendor marketplace.
The top 5 multivendor plugins for WooCommerce
This brings us to the top contenders in the WooCommerce multivendor arena, analyzed for their versatility, functionality, and user-friendliness. Let's examine each of these plugins in depth, discussing their key features, benefits, potential drawbacks, and more.
1. WooCommerce Product Vendors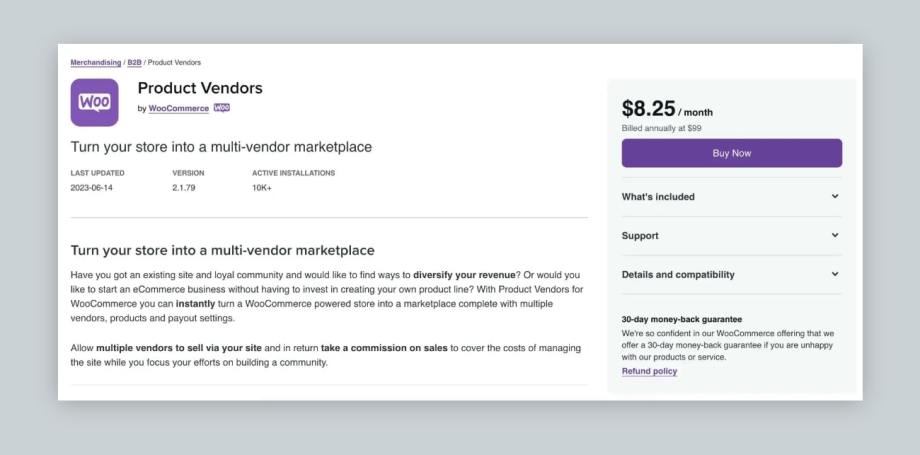 WooCommerce Product Vendors is a dynamic solution for those looking to transform their WooCommerce store into a fully-fledged multi-vendor marketplace. With its robust set of features, Product Vendors provides a streamlined platform where vendors can easily manage their own products, profiles, and shipping rules.
Key features
Complete vendor management: Vendors can control their public profile, manage their products and per-product shipping rules, add private or customer-facing notes to orders, view sales reports, and receive commission payouts.
Product flexibility: The plugin supports a variety of product types, including physical and digital goods, along with time-based bookings when integrated with WooCommerce Bookings.
Admin control: Marketplace owners can accept and approve applications from potential vendors, set up vendor-specific commission rates and payout schedules, and even appoint vendor admins to manage vendor details.
Vendor ratings: Display a vendor rating composed of all of their product ratings, fostering trust and transparency within your marketplace.
Integrated commissions: Commissions on sales can be set as a fixed amount or a percentage and can be individually adjusted per vendor, per product, or per store.
Scheduled payouts: Marketplace owners can set up instant, manual, weekly, bi-weekly, or monthly payments to vendors.
Pricing
Priced at $8.25 per month, or billed annually at $99, WooCommerce Product Vendors offers a reasonable investment for those looking to expand their WooCommerce store into a diverse marketplace. For those unsure about the plugin, it offers a 30-day money-back guarantee.
On the flip side, the complexity of the plugin may require a learning curve for some users. Nevertheless, the versatile capabilities of WooCommerce Product Vendors make it a promising choice for anyone aiming to cultivate a successful multi-vendor marketplace.
2. Dokan Multivendor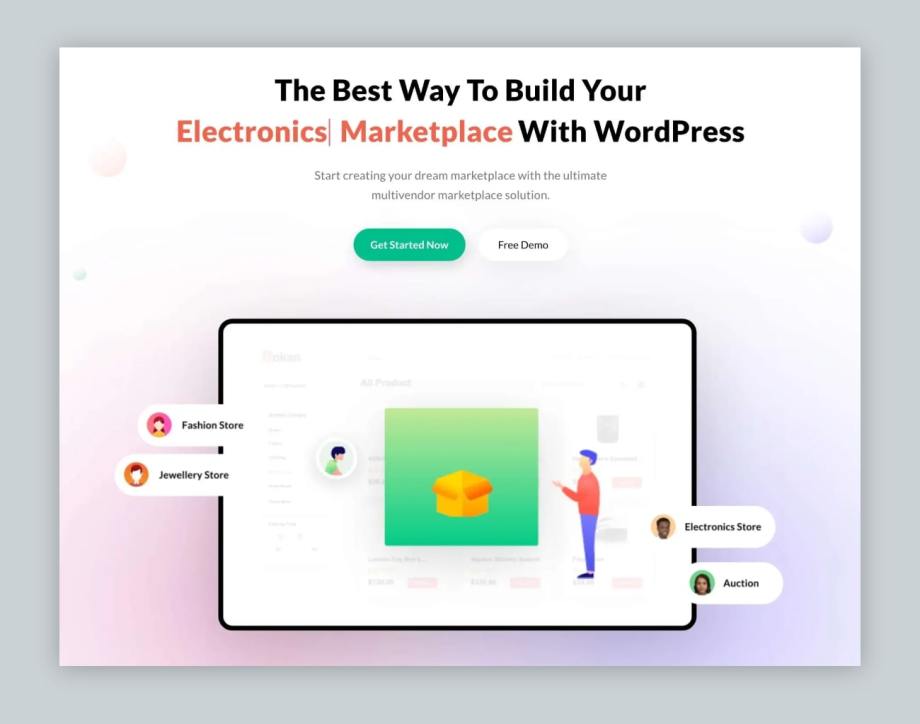 Dokan multivendor marketplace plugin offers an extensive array of features to transform your WooCommerce store into a powerful, multi-vendor platform. Dokan excels in delivering comprehensive tools for both admins and vendors, coupled with a smooth shopping experience for customers.
Key features
Vendor management UI: Admins can gain access to crucial information and manage vendors' rights and capabilities in your marketplace.
Multiple commission types: Marketplace owners can implement various commission structures for diverse revenue streams.
Automatic withdrawal disbursement & reverse withdrawal: Easily manage vendor payouts with an auto-disbursement feature, and revert withdrawals if necessary.
Product advertising & announcements: Leverage effective communication tools to keep your marketplace community informed.
Shipping management & status: Vendors can control their shipping rates, use popular shipping solutions, and provide shipment tracking for customers.
Social login & registration: Simplify the process for vendors to register or log in using their social profiles.
Earning reports & statements: Vendors receive a real-time overview of their finances and earnings on their dashboard.
Independent stores & bulk edit: Vendors receive customizable stores and can bulk edit multiple products simultaneously.
In addition, you can send email notification updates for every order detail and status change. The plugin also incorporates Ajax live search to help customers easily navigate through the product offerings and follow their favorite stores. It supports hundreds of payment gateways, including PayPal, Google Pay, and Apple Pay.
Pricing
Dokan offers five pricing plans:
Always free: This basic multi-vendor store package is free forever and offers unlimited vendors, order management, and more.
Starter: Priced at $149/yr, this plan offers additional features like product bulk editing, commission types, and social login.
Professional: For $249/yr, users gain access to even more features like Stripe Express, minimum maximum order, vendor reviews, and more.
Business: At $499/yr, this plan provides an extensive feature set, including product advertising, geolocation, and staff management features.
Enterprise: At $999/yr, users receive premium services like theme compatibility, basic installation, and live chat support.
The plans come with a 14-day money-back guarantee but note that this does not apply to products purchased at a discount.
3. MultiVendorX
MultiVendorX stands out as a versatile marketplace solution, packed with over 200 features designed to drive growth at every stage of your business. With its multi-lingual, multi-currency, and user-friendly interface, this plugin is designed to cater to both beginners and experts alike.
Key features
Multiple payment gateways: Accept payments anytime, anywhere, with a plethora of supported payment options.
Language and currency flexibility: The plugin supports multiple languages and currencies to cater to an international audience.
Insightful analytics: Helps you make data-driven decisions to upgrade your marketplace plans.
Vendor identity and verification: Ensure the integrity of your marketplace by allowing only verified vendors.
Same product multiple vendors (SPMV): Facilitate competition and give your customers options by enabling multiple vendors to sell the same product.
Customizable solution: With over 200 features, MultiVendorX offers a comprehensive solution for various marketplace requirements.
Flexible commission & sensitive dashboard: Set varied commission rates and manage your operations via an intuitive dashboard.
Pricing
MultiVendorX offers four pricing plans:
Basic: This plan is free and offers unlimited sites, 25+ modules, unlimited support, and lifetime updates.
Starter: Priced at $299/yr (from $499), it covers one site and provides 50+ modules, 1 year of support, and updates.
Growth: At $399/yr (from $899), it caters to three sites and offers 50+ modules, 1 year of support, and updates.
Agency: For $499/yr (from $999), this plan covers 10 sites, offers 50+ modules, and provides 1 year of support and updates.
MultiVendorX provides a comprehensive solution for building a marketplace, with its extensive range of features and user-friendly system. Whether you're a beginner or an expert, this plugin is designed to meet your marketplace needs.
4. WCFM Marketplace
WCFM Marketplace sets itself apart as one of the most feature-rich multi-vendor plugins for WordPress. With over 40,000 marketplace owners placing their trust in this platform, it is the go-to choice for building, running, and expanding your marketplace.
Key features
Store hours and vacation mode: Perfect for seasonal businesses or those operating within fixed hours.
Coupon management: Create enticing deals with flexible discount promo codes.
Product import and export: Conveniently import and export products to and from CSV files from the vendor dashboard.
Inquiry and support ticket system: Promote customer-seller interaction to aid in making better purchasing decisions.
Membership subscription: Propose membership plans for sellers, both free and paid, and accept recurring fees.
Invoice and shipping labels: Streamline order fulfillment with store invoices and shipping labels.
Geo-location and radius search: Enable product or service search based on the user's current location.
Shipment and delivery: Share delivery tracking, and notify users of shipping status changes.
In addition, WCFM Marketplace integrates with over 40 popular WordPress and WooCommerce plugins and supports over 100 payment gateways. It also offers multilingual support and a free seller app which can help in building a global marketplace.
One of the many satisfied users of WCFM Marketplace stated, "Super clean and easy to use… all stats at one place… love it". This feedback resonates with the marketplace's commitment to providing an intuitive and seamless experience for its users.
Pricing
WCFM Marketplace offers a free core plugin and additional paid extensions.
WCFM – Ultimate: $59.00
WCFM – Group & Staff: $49.00
WCFM – Delivery: $39.00
WCFM – Affiliate: $39.00
WCFM Marketplace is an all-in-one solution for building an online marketplace with WordPress. Whether you're planning on selling subscriptions, wholesale items, booking services, or renting space, WCFM Marketplace can support your business model.
5. Webkul WooCommerce Multi Vendor Marketplace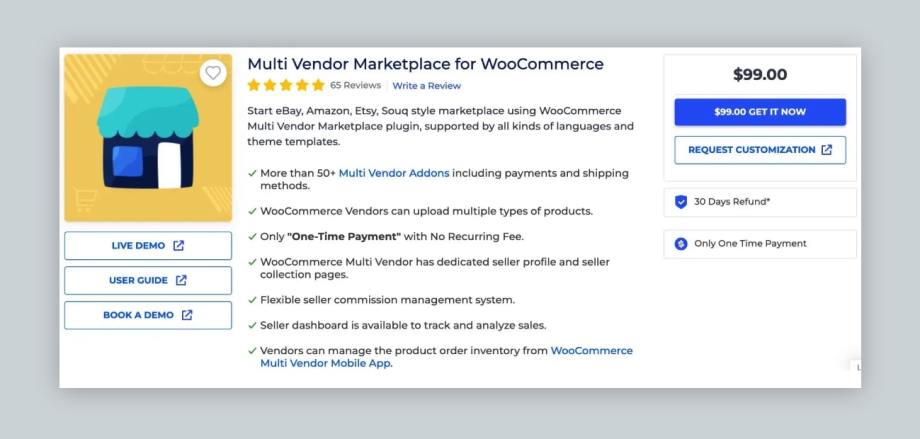 Multi Vendor Marketplace for WooCommerce by Webkul Store is an all-in-one solution for building a feature-rich marketplace similar to popular platforms like eBay, Amazon, and Etsy.
Key features
Various product types: Sellers can upload simple, grouped, external/affiliate, and variable products.
Seller dashboard: Sellers can manage their profile, products, and shipping, and even put up queries to the admin.
Flexible commission system: Admin can set the default commission for every seller and configure different commission percentages for different sellers.
Order management: With visibility of customer billing and shipping addresses, order management is a breeze.
SEO-friendly URL structure: The Marketplace incorporates an SEO-friendly URL structure to boost visibility.
Advanced features: Features like upsell and cross-sell products, transaction visibility for sellers, and category assignment by the admin.
Google Analytics integration: The admin can use Google Analytics to examine website data and monitor sales and product performance.
Pricing
The plugin is available for a one-time fee of $99, with no additional, recurring fees.
The extensive features, user-friendly experience, and flexible commission system of the Multi Vendor Marketplace for WooCommerce by Webkul Store make it a promising choice for any online marketplace.
Strengthen your WooCommerce multivendor marketplace with Saucal
Creating a multivendor marketplace is a proven way to boost your eCommerce business. With multiple vendors on board, you can provide your customers with a wider variety of products, boosting your store's appeal and increasing sales.
However, setting up and managing a WooCommerce multivendor marketplace is not always a simple task. That's where Saucal comes in.
As dedicated WooCommerce experts, Saucal's team of developers is well-equipped to help you navigate through the process, ensuring that your multivendor marketplace is designed to meet your business needs and objectives. By partnering with Saucal, you can leverage our expertise in hosting, maintenance and support, updates, and bug fixing.
This leaves you free to focus on what truly matters: growing your business, establishing relationships with vendors, and providing the best possible products and services to your customers.
Kostas Seresiotis, Senior Product Engineer at Saucal, speaks to the importance of working with a team like Saucal from the very start of your multivendor venture:
Having developed a complex multi vendor marketplace using WooCommerce Product Vendors, Stripe and a custom commission payment system, on top of a multisite installation we can say with certainty that such a system needs to be designed & implemented properly from the start, and use a robust hosting platform in order to scale & succeed.
With Saucal, you can ensure that your multivendor marketplace is always in top shape, delivering the performance your customers expect.
The road to a successful multivendor marketplace can be smooth and manageable with the right partner by your side. So why wait?
Take the first step towards establishing your own WooCommerce multivendor marketplace today. Get in touch with Saucal and discover how their expertise can help transform your eCommerce business into a thriving marketplace!