Need guidance on how to best manage your WooCommerce inventory? If so, we understand. There are plenty of factors that influence the overall success (or failure!) of an eCommerce store, including stock management.
Without having the right system in place, WooCommerce store owners may find that they have a whole host of unwelcome side effects. After all, you can only smoothly sell a product if you have the item in stock. It's difficult enough to bring a customer on board — you certainly won't want to lose them at the last minute because the item they're looking to buy is out of stock or on backorder.
Correct stock management is also key for managing cash flow. Having too many items in stock could signal mismanagement of your store's capital and will also be a waste of your store's stocking space.
If you're having trouble keeping track of your stock levels, then fear not. In this day and age, it couldn't be easier to get a WooCommerce inventory management plugin that'll make keeping an eye on your inventory as easy as pie. In this post, we'll explore some useful tips — and the various plugins — you need to keep your stock levels in check. 
Why inventory management is key to WooCommerce success
It would be nice if you could let the stock management aspect of your WooCommerce store just take care of itself. But alas, that's not possible. At its best, having inadequate inventory control will just make your task of running a successful eCommerce store more difficult (and it's already hard enough).
At its worst, failure to stay on top of your inventory levels can lead to problems that could put the future of your eCommerce business in jeopardy.
It's worth mentioning that while WooCommerce does offer basic inventory management features that are sufficient for many stores, high-revenue stores with a large inventory may find these built-in features limiting. In such cases, relying solely on the in-built features can lead to problems down the line. Therefore, it's important for these stores to explore more advanced solutions provided by plugins.
So what problems could you encounter if you don't manage stock the correct way? Let's take a look.
Stockouts
Using a WordPress plugin that provides WooCommerce stock manager support can help you to avoid stockouts, which is a pain point for both customers — who can't get the item they want — and store owners, who have to unnecessarily miss out on a sale. In addition, they can help with order management, so you don't have more items on the shelf than you can realistically sell.
Predicting stock
It's useful to know what items you can get a hold of, and which items are on backorder. By adequately predicting your stock levels with a WooCommerce inventory management plugin, you'll be in a position to plan successful product launches and have better control over your marketing campaigns.
Inaccurate tracking
By integrating WordPress inventory management software into your eCommerce platform, you'll be able to keep track of your stock levels. This can seriously enhance your store's selling capability since you'll know which items are selling well and which ones are staying on the (virtual) shelf. Armed with this useful information, you'll be able to make well-informed decisions regarding which items you should restock and which items to withdraw.
Inefficient fulfillment
Your fulfillment process is measured by the speed with which you can pick, pack, and ship each WooCommerce order. The inventory management plugin will automatically update stock levels, so you'll know exactly how many you have on hand — making it easier to pick the item and get it on its way to the customer.
Wasting money
If there's one thing that eCommerce stores can't afford, it's wasting money. Inventory management software will help you to manage your cash flow since it can reduce overstocking and free up valuable storage space. It'll also prevent the issue of understocking, which is an entirely avoidable way to miss out on a valuable sale.
Best WooCommence inventory management plugins
With the right plugin, you'll be able to effortlessly see which items are out of stock, on backorder, the stock quantity of each item, and all-around keep a solid eye on your stock levels in real-time.
There are many inventory management tools available, but they're not all created equal. Some add-ons offer high levels of functionality and will integrate seamlessly with your WooCommerce store. It's only worth focusing on the latter!
With that in mind, we've put together a list of the best WooCommerce inventory management plugins. But be aware that at Saucal, we don't recommend using a plugin for your inventory management system needs if you're a high-scale store. There are other, better options out there. However, if you're still interested in inventory management tools, then check out the below, which we compiled using reviews from elsewhere rather than from our own experience.
1. WooCommerce Stock Manager
The WooCommerce Stock Manager plugin offers a wide variety of useful tools that can help store owners keep a useful eye on the product level of their items. With this plugin, you can clearly see which items are in stock, check stock status, and check order status and other information related to the order fulfillment process.
It's also useful for the management of individual products. For example, you can look at product data, reorder products that are low on stock, and get notifications when someone orders the item from your online store. There's also the option to create a CSV file to be viewed in Excel.
2. Smart Manager for WooCommerce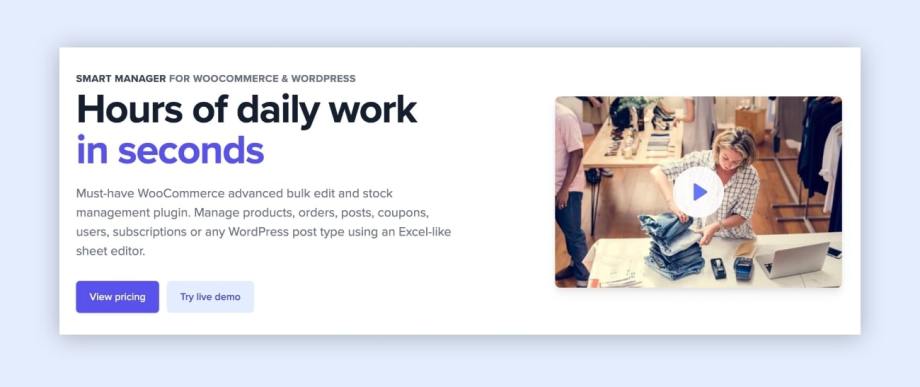 Smart Manager for WooCommerce, developed by StoreApps, is a powerful plugin designed to streamline advanced bulk editing and inventory management for WooCommerce stores. This must-have tool allows shop owners to save time and significantly increase productivity by efficiently handling inventory, orders, coupons, blog posts, users, subscriptions, and more.
Key features of Smart Manager include an Excel-like sheet editor for seamless bulk inventory management, support for all WooCommerce product types, management of various post types and custom fields, and a robust feature set in both the Lite (free) and Pro (paid) versions.
The plugin is also compatible with popular WooCommerce and WordPress plugins, such as Advanced Custom Fields, WooCommerce Subscriptions, and WooCommerce Smart Coupons.
Smart Manager Pro offers a single-screen interface for browsing and managing any dashboard, along with inline edit, live preview, infinite scrolling, and advanced bulk edit/batch update records.
With its advanced features and compatibility with popular WooCommerce and WordPress plugins, Smart Manager offers a comprehensive solution for managing inventory, orders, and other store aspects efficiently.
3. WISDM Product Manager
WISDM Product Manager is a powerful WooCommerce product inventory management tool that allows you to edit your products in bulk, get email notifications when a product — and its variants — is running low in stock, and allows you to produce inventory reports based on the items found an individual product page, including variable products.
It draws from various sales channels and includes an advanced search that makes keeping on top of the items or raw materials you need to reorder as simple as can be. It's no wonder that it has been such a hit with users, especially those that are running small eCommerce stores.
4. WP Inventory Manager

If you run your eCommerce store across various marketplaces, then you'll want an inventory management plugin that's as easy as possible to use. For the WordPress part of your operations, WP Inventory Manager has you covered. This useful plugin offers an attractive interface that is extremely user intuitive, making it a particularly popular option for store owners that just want to get the need-to-know information as straightforwardly as possible. This plugin includes a barcode scanner, which helps to facilitate inventory tracking, and provides a customizable label feature.
The WooCommerce inventory management plugin is free to use, but you'll need to pay to get some of the more advanced features. Still, whether you use the free or paid version, you'll find that it makes staying on top of your inventory management more straightforward.
Get Managed WooCommerce with Saucal
As we've seen, making sure that you're staying on top of your inventory levels is key to finding success with your eCommerce business. Without having a solid understanding of what's in and out of stock, you can't be sure that you can offer a great customer experience and manage your cash flow successfully.
Ultimately, staying on top of your inventory is good for business. It's your key to improving your bottom line and building a loyal customer base. If you're just getting started with your WooCommerce store, then one of the plugins that we've mentioned in this article could function as a useful starting point for staying on top of your inventory.
And if you're looking for WooCommerce management and support, then you want to work with the best. Here at Saucal, we have the WooCommerce expertise that you need to ensure that your website is well-maintained and ready to grow. We offer a range of services that can help your WooCommerce store to get ahead of the competition — and stay there. To get started, simply get in touch to see what we can do for you.